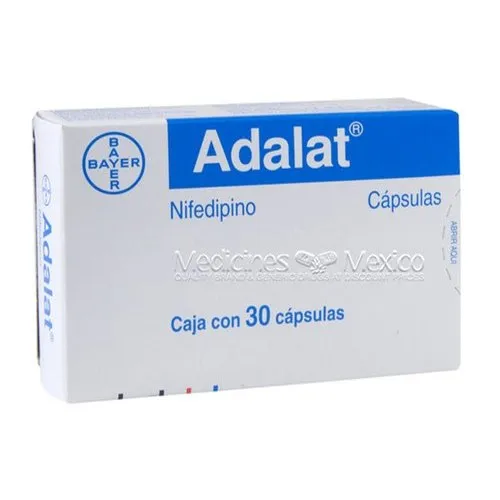 What is Adalat?
Adalat is a dihydropyridine calcium channel blocker.

Adalat is used to:

Treat high blood pressure (hypertension)
Prevent chronic stable angina (chest pain)

Adalat is one of the best researched antihypertensive drugs. Clinical studies such as INSIGHT and ACTION have clearly shown that Adalat can help optimise blood pressure control and prevent long-term cardiovascular damage.

Adalat was the first calcium channel blocker to be shown to significantly reduce the development of new overt heart failure in patients with coronary artery disease. Excellent blood-pressure control in recent clinical trials has been shown to result in significant protection against stroke.

Scientific evidence shows that Adalat has some of the best results for long-term clinical outcome.

Adalat works by opening up blood vessels in the body to lower blood pressure and improve the supply of blood and oxygen to the heart.

Calcium channel blockers do not change the amount of calcium in your blood or bones.


Adalat Recommendations
Follow the directions for using this medicine provided by your doctor. Take Adalat exactly as directed.

Adalat can be taken with or without meals. The tablets must not be chewed or broken up. They are to be swallowed whole with some liquid. Do not halve the tablets.

Do not stop taking the tablets unless you are told to do so by your doctor.

If you have high blood pressure, you must take Adalat regularly for it to be effective. Since blood pressure declines gradually, it may be several weeks before you get the full benefit of Adalat.

If you forget to take your Adalat tablet(s) at the right time, take it as soon as you remember, then continue as normal for the next dose. If you do not remember until it is almost time to take your next dose (ie. within 6 hours of your next dose), then skip the dose that you forgot but be sure to take the next dose when it is due. Do not take a double dose to make up for the dose that you missed. If you have missed several doses, consult your doctor.

Keep your Adalat tablets in a cool, dry place away from sunlight.



Adalat Storage
Store at room temperature between 59 and 86 degrees F (between 15 and 30 degrees C) away from moisture and sunlight.
Do not store in the bathroom.



Adalat Possible Side Effects
This drug may cause dizziness and lightheadedness especially during the first few days.
Avoid activities requiring alertness.
When you sit or lie down for a while, get up slowly to minimize dizziness and allow your body to adjust.
You may also experience bloating, heartburn, nausea, blurred vision, muscle cramps, headache, flushing, sweating and sleep disturbances.
These effects should disappear as your body adjusts to the medication.
Inform your doctor if they become bothersome.
Notify your doctor if you develop swelling of hands or feet or an irregular heartbeat.
In the unlikely event you have an allergic reaction to this drug, seek medical attention immediately.
Symptoms of an allergic reaction include rash, itching, swelling, dizziness or trouble breathing.
If you notice other effects not listed above, contact your doctor or pharmacist.



Adalat Precautions
Before having surgery, including dental surgery, tell the doctor that you take this drug.
Tell your doctor of any diseases you have especially liver disease or if you've had congestive heart failure or if you have any allergies.
Do not allow anyone else to take this medication.
Limit using alcohol while taking this medication.
This medication should be used only when clearly needed during pregnancy.
Discuss the risks and benefits with your doctor.
This drug is excreted into breast milk.
Though no problems have been noted, consult your doctor before breast-feeding.



Adalat Missed Dose
If you miss a dose, take as soon as remembered; do not take if it is almost time for the next dose, instead, skip the missed dose and resume your usual dosing schedule.
Do not "double-up" the dose to catch up.



Adalat Interactions
Tell your doctor of any over-the-counter or prescription drugs you are taking, especially beta-blockers, digoxin, quinidine, cimetidine, warfarin, calcium supplements, barbiturates, phenytoin, magnesium sulfate injection, fentanyl or high blood pressure drugs.
Avoid any drugs that increase your heart-rate (the decongestants phenylephrine, pseudoephedrine and phenylpropanolamine are examples).
These drugs are commonly found in over-the-counter cough-and-cold products.
Avoid grapefruit juice while using this medication, unless your doctor instructs you otherwise.
Do not start or stop any medicine without doctor or pharmacist approval.