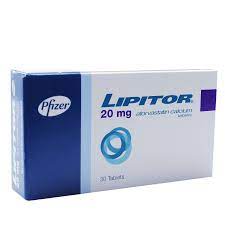 What is Lipitor?
Lipitor is used to lower cholesterol and other lipids (fats) in the blood and may help prevent medical problems caused by cholesterol such as heart disease.

When taken together with a low-fat diet, Lipitor can effectively reduce LDL cholesterol, commonly referred to as the bad cholesterol, triglyceride levels, and total cholesterol, while increasing the HDL, or good cholesterol. Lipitor is clinically proven to lower bad cholesterol 76 to 115 points, that is 39%-60%.

It works by slowing the production of cholesterol in the body. Buildup of cholesterol and fats along the walls of the blood vessels decreases blood flow and, therefore, the oxygen supply to the heart, brain, and other parts of the body. Lowering blood levels of cholesterol and fats may help to prevent heart disease, angina, strokes, and heart attacks.

Lipitor is one of the most prescribed branded medication in the world. Over 29 million people in the United States have been prescribed Lipitor. It is also one of the most widely studied medicines in the world with more than 15 years of research.

Lipitor is FDA-approved to significantly reduce the risk of:

• Heart attack
• Stroke
• Certain kinds of heart surgeries
• Chest pain
• if you have several common risk factors, including high blood pressure, low HDL ("good" cholesterol), family history, smoking, and age.



Lipitor Recommendations
Follow the directions on your prescription label carefully, and ask your doctor or pharmacist to explain any part you do not understand. Take the medicine orally as directed.

Lipitor is taken once a day. It can be taken with or without food, day or night. The tablet may be crushed or split. Swallow Lipitor with a glass of water or other liquid.

Generally the full effect will take 2 to 4 weeks, as long as you continue to take the medication as prescribed on a daily basis.

Remember to take Lipitor every day. If you forget a dose, take it as soon as you can. But if it's almost time for your next dose, skip the missed dose and go back to your regular schedule. Do not take a double dose.

Continue your diet and exercise plan.



Lipitor Storage
Store at room temperature between 68 and 77 degrees F (between 20 and 25 degrees C) away from moisture and heat.
Do not store in the bathroom.



Lipitor Possible Side Effects
Overall this medication is generally well tolerated.
Diarrhea or constipation or stomach pain may occur.
If these effects persist or worsen, inform your doctor promptly.
Unlikely but report muscle pain/tenderness/weakness, aches, or fever.
Very unlikely but report yellowing of eyes or skin, vomiting, vision problems, chest pain or black stools.
In the unlikely event you have an allergic reaction to this drug, seek immediate medical attention.
Symptoms of an allergic reaction include rash, itching, swelling, dizziness or trouble breathing.
If you notice other effects not listed above, contact your doctor or pharmacist.



Lipitor Precautions
Before taking Lipitor tell your doctor if you have liver disease, a severe infection, heart disease, thyroid problems, uncontrolled seizures, recent major surgery, low blood pressure, any allergies or any other medical problems.
If this medication makes you dizzy or lightheaded, use caution driving or engaging in activities requiring alertness.
Limit alcohol intake as this can damage the liver and cause increased side effects.
Lipitor should not be used during pregnancy.
If you become pregnant or think you may be pregnant, inform your doctor immediately.
This drug may be excreted into breast milk.
Because of the possible adverse effects to the infant, breast-feeding is not recommended.
Consult your doctor before breast-feeding.



Lipitor Missed Dose
If you miss a dose, take it as soon as remembered; do not take if it is almost time for the next dose.
Instead, skip the missed dose and resume your usual dosing schedule.
Do not "double-up" the doses.



Lipitor Interactions
Tell your doctor of all over-the-counter or prescription medication you may take including clofibrate, cyclosporine, erythromycin, gemfibrozil, niacin (nicotinic acid), azole antifungals (e.g., ketoconazole, itraconazole), antacids (e.g., Maalox, Mylanta), digoxin and birth control pills.
Avoid grapefruit juice while using this medication unless your doctor specifically instructs you otherwise.
Do not start or stop any medicine without doctor or pharmacist approval.