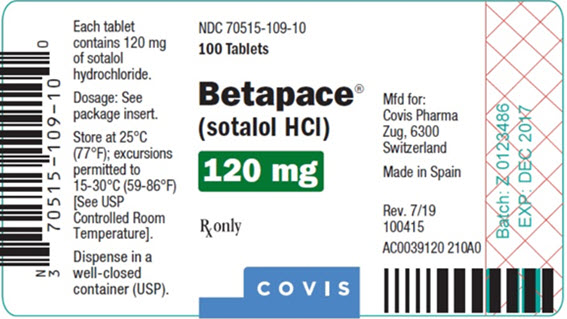 What is Betapace?
Betapace belongs to the group of medicines known as beta-blockers.

Betapace is indicated for use in the prevention and treatment of certain types of irregular heartbeat (supraventricular and ventricular arrhythmias).

Betapace works by changing the body's response to some nerve impulses, especially in the heart. As a result, it helps the heart to beat more regularly.


Betapace Recommendations
Follow the directions for using this medicine provided by your doctor. Take Betapace exactly as directed.

The dose of Betapace varies from patient to patient. Your doctor will decide the right dose for you.

For adults the usual starting dose of Betapace is 80mg twice daily. Your doctor may change this dose depending on how well you respond to the treatment.

It is best to take Betapace on an empty stomach, preferably 1-2 hours before meals.

To properly control your condition, Betapace must be taken everyday. Continue taking Betapace for as long as your doctor prescribes.

Do not stop taking Betapace or lower the dose without first checking with your doctor. Your doctor may want you to gradually reduce the amount of Betapace you are taking before stopping completely.

Do not take an antacid that has aluminum or magnesium in it within 2 hours before or after you take Betapace.

If you are being treated for diabetes, make sure you check your blood sugar level regularly. Your doctor may need to change your dose of diabetic medicines, including insulin.

If you forget a dose, just take the next dose when it is due. Do not take more than one dose at a time to make up for missed doses.

Store Betapace at room temperature. Avoid exposure to heat, light and moisture.



Betapace Storage
Store at room temperature between 59 and 86 degrees F (15 to 30 degrees C) away from heat and light.
Do not store in the bathroom.



Betapace Possible Side Effects
Drowsiness, dizziness, lightheadedness, headache, stomach upset or blurred vision may occur the first several days as your body adjusts to the medication.
Other common side effects reported include cough, decreased sexual desire, trouble sleeping, reduced concentration, altered taste, dry skin and muscle aches.
If any of these effects continue or become bothersome, inform your doctor.
Notify your doctor if you develop chest pain, a rapid pulse, skin rash, breathing trouble, mental confusion, trouble urinating, fever, sore throat or easy bruising or bleeding while taking this medication.
To avoid dizziness and lightheadedness when rising from a seated or lying position, get up slowly.
Also limit your intake of alcoholic beverages which will aggravate these effects.
Use caution performing tasks requiring alertness if this medication causes you to feel drowsy or dizzy.
If you notice other effects not listed above, contact your doctor or pharmacist.



Betapace Precautions
Tell your doctor if you have any pre-existing kidney disease, heart disease, lung disease, asthma, emphysema, thyroid disease, diabetes or if you have any allergies.
This medication should be used only if clearlyneeded during pregnancy.
Discuss the risks and benefits with your doctor.
Since small amounts of this medication are found in breast milk, consult your doctor before breast-feeding.



Betapace Missed Dose
If you miss a dose, take it as soon as remembered; do not take it if it is near the time for the next dose, instead, skip the missed dose and resume your usual dosing schedule.
Do not "double-up" the dose to catch up.



Betapace Interactions
Tell your doctor of any over-the-counter or prescription medication you may take including any medication for blood pressure, depression, diabetes, water pills, antibiotics or heart medication.
Do not take any over-the-counter medication for allergies or cough or colds without consulting your doctor or pharmacists.
Many of the products contain ingredients which may interact with this medication's effects.
Do not start or stop any medicine without doctor or pharmacist approval.