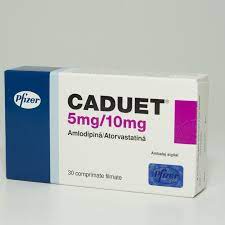 What is Caduet?
Caduet is a combination of two medicines, amlodipine besylate (known under the brand name Norvasc) and atorvastatin calcium (known under the brand name Lipitor). Amlodipine is used to treat high blood pressure (hypertension), chest pain (angina), or blocked arteries of the heart (coronary artery disease); atorvastatin is used to lower high cholesterol. It is also used to lower the risk of heart attack and stroke in people with multiple risk factors for heart disease such as family history, high blood pressure, age, low HDL-C, or smoking.

Caduet as a combination drug is used for the treatment of both high blood pressure and high cholesterol with a single pill.


Caduet Recommendations
Follow the directions for using this medicine provided by your doctor. Take Caduet exactly as directed.

The dosage will depend on your condition and your response to the medicine.



Caduet Storage
Store the medicine in a closed container at room temperature, away from heat, moisture, and direct light.
Ask your pharmacist, doctor, or health caregiver about the best way to dispose of any outdated medicine or medicine no longer needed. Keep all medicine away from children and never share your medicine with anyone.



Caduet Possible Side Effects
Call your doctor right away if you notice any of these side effects: Allergic reaction: Itching or hives, swelling in your face or hands, swelling or tingling in your mouth or throat, chest tightness, trouble breathing. Blistering, peeling, red skin rash.
Chest pain (may be related to your disease and not a side effect).
Decrease in how much or how often you urinate.
Fainting or flushing.
Muscle pain, weakness, or cramps, especially with fever or weakness.
Skin or eyes turn yellow.



Caduet Precautions
You should not use this medicine if you have had an allergic reaction to amlodipine or atorvastatin.
You should not use this medicine if you currently have liver disease, or if you are pregnant or breast feeding.



Caduet Missed Dose
If you miss a dose or forget to use your medicine, use it as soon as you can.
If it is almost time for your next dose, wait until then to use the medicine and skip the missed dose.
Do not use extra medicine to make up for a missed dose.



Caduet Interactions
Using this medicine while you are pregnant can harm your unborn baby.
Use an effective form of birth control to keep from getting pregnant.
If you think you have become pregnant while using the medicine, tell your doctor right away. Make sure your doctor knows if you have any kind of heart disease, including congestive heart failure, heart valve problems, or problems with your blood vessels.
Make sure your doctor knows if you have a history of liver disease. Your doctor will need to check your blood at regular visits while you are using this medicine.
Be sure to keep all appointments. Make sure any doctor or dentist who treats you knows that you are using this medicine.
You may need to stop using this medicine if you have major surgery or a major injury.
You also may need to stop if you develop other serious health problems, such as seizures or problems with your blood.