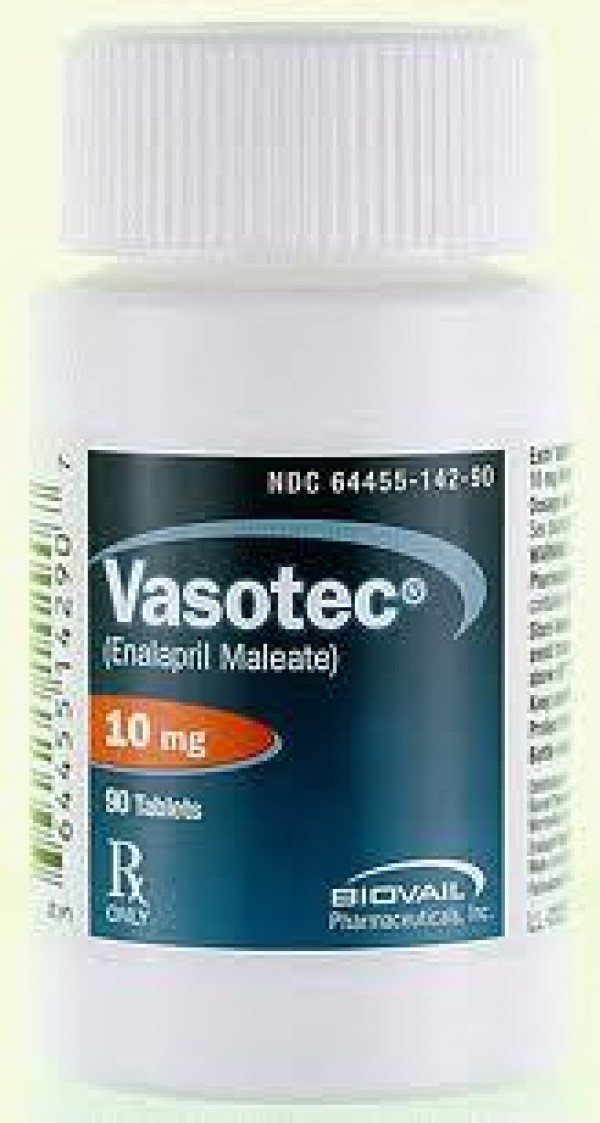 What is Vasotec?
Vasotec (generic name: enalapril; brand names include: Renitec / BQL / Benalipril / Amprace / Alphapril / Converten / Enalagamma / Enatec / Envas / Invoril / Xanef) belongs to a group of medicines called angiotensin converting enzyme (ACE) inhibitors.

Vasotec is primarily used for the treatment of high blood pressure (hypertension).

Vasotec is also used in the treatment of heart failure to slow the progression of the disease and reduce the symptoms such as shortness of breath and swelling of the feet and ankles.


Vasotec Recommendations
Follow the directions for using this medicine provided by your doctor. Take Vasotec exactly as directed.

The usual starting dose for high blood pressure is 5 mg taken once a day. Some patients may need a lower starting dose. The dose may need to be increased depending on response to the medicine.

The usual starting dose for heart failure is 2.5 mg taken once a day. Depending on your response, this dose may need to be increased up to 20 mg each day. This dose may be taken once a day or divided into two doses per day.



Vasotec Storage
Store at room temperature away from sunlight and moisture.
Do not store in the bathroom.



Vasotec Possible Side Effects
Headache, diarrhea, constipation, nausea, fatigue or dry cough may occur the first several days as your body adjusts to the medication.
Unlikely but report promptly if you develop chest pain, tingling or swelling of the hands or feet; swelling of the face, lips or tongue; yellowing of the skin or eyes, fever, sore throat, or dizziness.
In the unlikely event you have an allergic reaction to this drug, seek immediate medical attention.
Symptoms of an allergic reaction include rash, itching, swelling, dizziness or trouble breathing.
If you notice other effects not listed above, contact your doctor or pharmacist.



Vasotec Precautions
Before taking this drug tell your doctor your medical history especially a history of angioedema, high blood levels of potassium, kidney disease or kidney dialysis, salt restrictive diet, liver disease and of any drug allergies.
Consult your doctor before using salt substitutes or low salt milk.
To avoid dizziness and lightheadedness when rising from a seated or lying position, get up slowly.
Limit your intake of alcohol and use caution when exercising or during hot weather as these can aggravate dizziness and lightheadedness.
This medication should be used only when clearly needed during the first three months of pregnancy.
It is not recommended for use during the last six months of the pregnancy.
Discuss the risks and benefits with your doctor.
This drug is excreted into breast milk.
Consult your doctor before breast-feeding.
Caution is advised when this medication is used in the elderly.
Caution is advised when this medication is used in children.



Vasotec Missed Dose
If you miss a dose, take as soon as remembered; do not take if it is almost time for the next dose, instead, skip the missed dose and resume your usual dosing schedule.
Do not "double-up" the dose to catch up.



Vasotec Interactions
Inform your doctor about all the medicine you use (both prescription and nonprescription) especially if you take lithium, potassium supplements, potassium sparing water pills or other water pills (diuretics), high blood pressure drugs or NSAID (aspirin-like drugs) because you may need to be monitored more closely.
Avoid "stimulant" drugs that may increase your heart rate such as decongestants or caffeine.
Decongestants are commonly found in over-the-counter cough-and-cold medicines.
Do not start or stop any medicine without doctor or pharmacist approval.