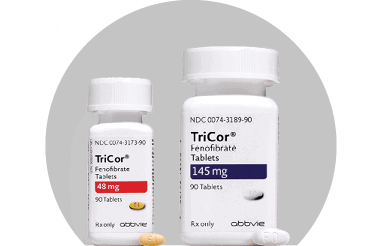 What is Tricor?
Tricor is in a class of medications called fibrates which are effective at targeting triglycerides (fats in the blood).

Fibrates help lower triglyceride levels by reducing the amount of VLDL (the triglyceride-carrying particle that circulates in the blood), which speeds up the removal of triglycerides.

Tricor tablets are used to help reduce levels of lipids or fats (such as cholesterol or triglycerides) in the blood, and to help increase the level of HDL (good cholesterol) in the blood.

Tricor, in addition to appropriate diet, is used to treat adults with high cholesterol, with or without elevated triglycerides (Fredrickson types IIa and IIb). Tricor reduces elevated LDL-C (bad cholesterol), total cholesterol, triglycerides and apolipoprotein B, and increases HDL-C (good cholesterol). Tricor, in addition to appropriate diet, is also used to treat adults with high triglycerides (Fredrickson types IV and V).



Tricor Recommendations
Follow the directions for using this medicine provided by your doctor. Take Tricor exactly as directed.

Take Tricor tablets by mouth. Swallow the tablets with a drink of water. You may take Tricor with or without food.

Take your doses at regular intervals. Do not take your medicine more often than directed.

Contact your pediatrician or health care professional regarding the use of this medicine in children. Special care may be needed.

If you forget to take one of your doses at the scheduled time, go ahead and take it as soon as you remember. However, if it is almost time for your next dose, skip the missed dose.
Do not take a double dose.



Tricor Storage
Store at room temperature away from light and moisture.



Tricor Possible Side Effects
Upset stomach, constipation, headache, dizziness or trouble sleeping may occur.
If these effects persist or worsen, notify your doctor promptly.
Report promptly muscle pain, tenderness, weakness or fever.
Very unlikely but report promptly decreased sexual drive, yellowing eyes or skin or stomach pain.
In the unlikely event you have an allergic reaction to this drug, seek immediate medical attention.
Symptoms of an allergic reaction include rash, itching, swelling, dizziness or trouble breathing.
If you notice other effects not listed above, contact your doctor or pharmacist.



Tricor Precautions
Tell your doctor your medical history, including any allergies, diabetes, liver, kidney or gallbladder disease, low thyroid (hypothyroidism) or muscle disorders.
In the U.S.: This medication should be used only when clearly needed during pregnancy.
Discuss the risks and benefits with your doctor.
In Canada: This medication should not be used during pregnancy.
If you become pregnant or think you may be pregnant, inform your doctor immediately.
Women of childbearing age should use an effective form of birth control.
Stop using this drug for several months before planning a pregnancy.
It is not known whether this drug is excreted into breast milk.
Breast-feeding while using this drug is not recommended.
Consult your doctor before breast-feeding.



Tricor Missed Dose
If you miss a dose, use it as soon as you remember.
If it is near the time of the next dose, skip the missed dose and resume your usual dosing schedule.
Do not "double-up" the dose to catch up.



Tricor Interactions
Tell your doctor of all nonprescription and prescription medication you may use, especially "blood thinners" such as warfarin, "statin" drugs (such as lovastatin), cyclosporine, MAO Inhibitors (e.g., selegiline, furazolidone, tranylcypromine, phenelzine, moclobemide), diabetic medicine (sulfonylureas such as glipizide, and insulin), estrogens/birth control pills, beta-blockers such as propranolol and "water pills" (diuretics such as hydrochlorothiazide).
Do not start or stop any medicine without doctor or pharmacist approval.