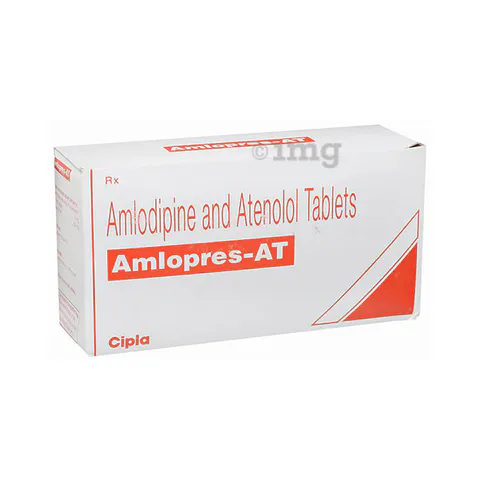 What is Amlopres-AT?
Amlopres-AT is a combination drug for the treatment of hypertension (high blood pressure).

Each tablet contains atenolol 25 mg and amlodipine besylate 5 mg.

Indications include:

• mild to moderate hypertension (high blood pressure)
• chronic stable angina (chest pain)



Amlopres-AT Recommendations
Follow the directions for using this medicine provided by your doctor. Take your medicine exactly as directed.



Amlopres-AT Storage
Store the medicine at room temperature, away from heat, moisture, and direct light. Ask your pharmacist, doctor, or health caregiver about the best way to dispose of any outdated medicine or medicine no longer needed. Keep all medicine out of the reach of children and never share your medicine with anyone.



Amlopres-AT Possible Side Effects
Call your doctor right away if you notice any of these side effects: Chest pain (may be related to your disease and not a side effect) Dark yellow urine Fast, irregular, or pounding heartbeat Swelling in the ankles or feet Yellow eyes or skin Unusual tiredness or weakness



Amlopres-AT Precautions
You should not use this medicine if you have had an allergic reaction to amlodipine or to similar medicines (such as Verapamil, Adalat, Calan, Cardizem, Lotrel, Plendil, Procardia).



Amlopres-AT Missed Dose
If you miss a dose or forget to take your medicine, take it as soon as you can.
If it is almost time for your next dose, wait until then to take the medicine and skip the missed dose. Do not use extra medicine to make up for a missed dose.



Amlopres-AT Interactions
Make sure your doctor knows if you are pregnant or breastfeeding, or if you have liver disease, heart failure, stomach problems, or aortic stenosis (narrowing of a valve in your heart). This medicine may make you dizzy or lightheaded.
Avoid driving, using machines, or doing anything else that could be dangerous if you are not alert. Do not stop using this medicine suddenly without asking your doctor.
You may need to slowly decrease your dose before stopping it completely.