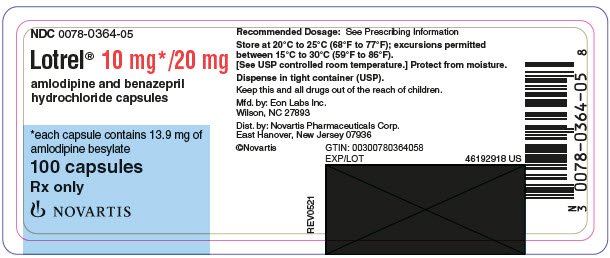 What is Lotrel?
Lotrel is an antihypertensive medication which combines a calcium channel blocker (amlodipine besylate) with an angiotensin converting enzyme inhibitor (benazepril).

Lotrel is used for the treatment of high blood pressure (hypertension).

Lotrel works by causing the blood vessels to relax.

Because Lotrel is a combination of two medications, it causes a greater drop in blood pressure than if either medication is used alone.



Lotrel Recommendations
Follow the directions for using this medicine provided by your doctor. Take Lotrel exactly as directed.

The recommended starting dosage of Lotrel for people with high blood pressure varies between 2.5 mg/10 mg and 10 mg/40 mg once a day.

The Lotrel dose may be increased or decreased after several weeks, when the full effects of Lotrel on lowering your blood pressure can be measured.

Do not change your Lotrel dosage or stop taking the medication without consulting a doctor.

Your Lotrel dosage should be taken by mouth with a glass of water. Lotrel may be taken with or without food.

If you do not take your Lotrel as scheduled, take your next dose as soon as you remember. If it is almost time for the next scheduled dose, skip the missed one and continue with normal dosing. Do not take a double dose.



Lotrel Storage
Store this medication at room temperature between 59 and 86 degrees F (15 to 30 degrees C) away from heat and light.
Do not store in the bathroom.
Keep this and all medications out of the reach of children.



Lotrel Possible Side Effects
Headache, dizziness, lightheadedness and fatigue may occur the first several days as your body adjusts to the medication.
Cough, loss of appetite, change in taste, dry mouth, increased sweating or nasal congestion can also occur.
If any of these effects continue or become bothersome, inform your doctor.
Notify your doctor if you develop chest pain (angina), a rapid or pounding heartbeat, sore throat, fever, difficulty swallowing, vision changes or muscle aches.
In the unlikely event you have an allergic reaction to this drug, seek immediate medical attention.
Symptoms of an allergic reaction include rash, itching, swelling, dizziness or trouble breathing.
If you notice other effects not listed above, contact your doctor or pharmacist.



Lotrel Precautions
Tell your doctor if you have any pre-existing kidney disease, heart disease, liver disease, diabetes, blood disorders or if you have any allergies.
Limit intake of alcohol which enhances dizziness.
Because this medication may make you dizzy or lightheaded, use caution operating machinery or engaging in activities requiring alertness.
Rise slowly from a lying or seated position to minimize dizziness.
This medication is not recommended for use during pregnancy.
Consult your doctor before using this drug.
It is not known if this medication appears in breast milk.
Consult your doctor before breast-feeding.



Lotrel Missed Dose
Try to take each dose at the scheduled time.
If you miss a dose, take it as soon as remembered; do not take it if it is near the time for the next dose, instead, skip the missed dose and resume your usual dosing schedule.
Do not "double-up" the dose to catch up.



Lotrel Interactions
Tell your doctor of any over-the-counter or prescription medication you may take including any heart medications, potassium supplements, salt substitutes or any product for cough, cold or allergies.
Avoid grapefruit juice while using this medication, unless your doctor instructs you otherwise.
Do not start or stop any medicine without doctor or pharmacist approval.