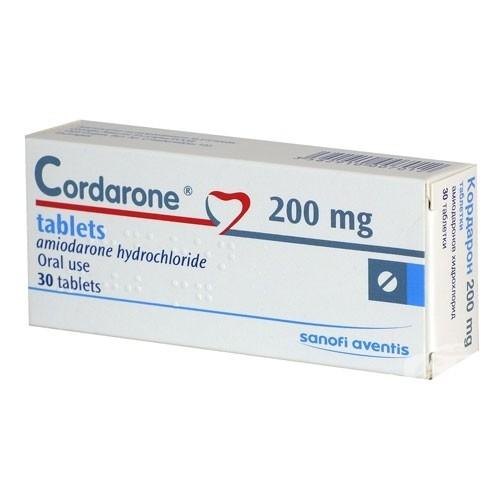 What is Cordarone?
Cordarone is an antiarrhythmic drug.

Cordarone is used for the treatment of ventricular arrhythmias.

Indications include:

• Recurrent ventricular fibrillation
• Recurrent hemodynamically unstable ventricular tachycardia


Cordarone Recommendations
Follow the directions for using this medicine provided by your doctor. Take your medicine exactly as directed.



Cordarone Storage
Store the medicine in a closed container at room temperature, away from heat, moisture, and direct light.
Ask your pharmacist, doctor, or health caregiver about the best way to dispose of any leftover medicine after you have finished your treatment.
You will also need to throw away old medicine after the expiration date has passed. Keep all medicine away from children and never share your medicine with anyone.



Cordarone Possible Side Effects
Call your doctor right away if you notice any of these side effects: Allergic reaction: Itching or hives, swelling in your face or hands, swelling or tingling in your mouth or throat, chest tightness, trouble breathing. Blistering, peeling, red skin rash. Blurred vision, seeing halos, feeling that your eyes are more sensitive to light. Continued or worsened irregular heartbeat. Cough with blood or chest pain. Dark-colored urine or pale stools. Fast, slow, or pounding heartbeat. Lightheadedness, dizziness, or fainting. Nausea, vomiting, loss of appetite, pain in your upper stomach. Numbness, tingling, or burning pain in your hands, arms, legs, or feet. Severe headache, pain behind your eyes, or problems with balance, walking, or speech. Shallow or labored breathing. Shortness of breath, cold sweat, and bluish-colored skin. Swelling in your hands, ankles, or feet. Twitching or muscle movements you cannot control (often in your eyes, jaw, neck or upper body). Unusual bleeding or bruising. Unusual tiredness or weakness. Yellowing of your skin or the whites of your eyes.



Cordarone Precautions
You should not use this medicine if you have had an allergic reaction to amiodarone or iodine, or if you are pregnant.
You should not use this medicine if you have certain heart problems such as heart block or severe sinus-node dysfunction.
Do not use this medicine if you have had fainting spells caused by very slow heartbeat.



Cordarone Missed Dose
If you miss a dose or forget to use your medicine, use it as soon as you can.
If it is almost time for your next dose, wait until then to use the medicine and skip the missed dose.
Do not use extra medicine to make up for a missed dose.



Cordarone Interactions
Using this medicine while you are pregnant can harm your unborn baby.
Use an effective form of birth control to keep from getting pregnant.
If you think you have become pregnant while using the medicine, tell your doctor right away. Make sure your doctor knows if you are breastfeeding, or if you have heart disease (such as congestive heart failure), breathing problems or lung disease, liver disease, high or low blood pressure, thyroid disorder, or low potassium or magnesium in your blood. Do not stop using this medicine suddenly without asking your doctor.
You may need to slowly decrease your dose before stopping it completely. Make sure any doctor or dentist who treats you knows that you are using this medicine.
You may need to stop using this medicine several days before having surgery or medical tests. This medicine may make your skin more sensitive to sunlight.
Use a sunscreen when you are outdoors.
Avoid sunlamps and tanning beds.After taking amiodarone for several months, your skin may look blue-gray in color, especially on areas exposed to sunlight. Your doctor will need to check your progress at regular visits while you are using this medicine.
Be sure to keep all appointments.
You may also need to have regular blood tests or eye examinations while you are using this medicine. Make sure any doctor or dentist who treats you knows that you are using this medicine.
This medicine may affect the results of certain medical tests.