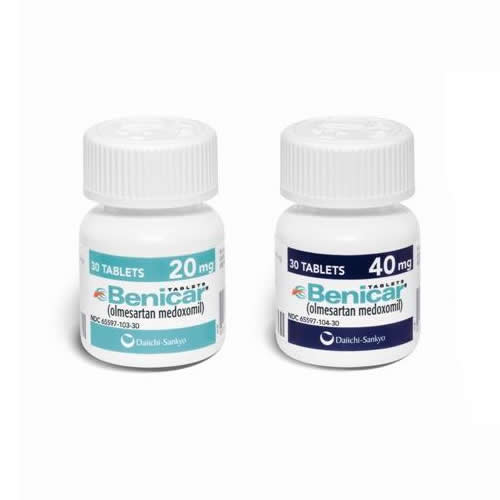 What is Benicar?
Benicar is a type of high blood pressure medicine called an angiotensin receptor blocker or ARB. It blocks the action of a substance in the body called angiotensin II that increases blood pressure.

Benicar is indicated for the treatment of hypertension. It can be used alone or with other drugs that treat high blood pressure.


Key Facts: Benicar
Benicar Recommendations
Follow the directions on your prescription label carefully, and ask your doctor or pharmacist to explain any part you do not understand. Take Benicar exactly as directed.

Take Benicar by mouth with or without food.

It may take up to 2 weeks before you feel the full benefit of Benicar. Continue to take Benicar even if you feel well. Do not stop taking Benicar without talking to your doctor.

If you miss a dose of Benicar, take it as soon as possible. If you are only taking one dose a day and do not remember your missed dose until the next day, skip the missed dose and go back to your regular dosing schedule. Do not take 2 doses at once.

Store this medicine at room temperature, away from heat, light and moisture.



Benicar Storage
Store the medicine in a closed container at room temperature, away from heat, moisture, and direct light.
Ask your pharmacist, doctor, or health caregiver about the best way to dispose of any outdated medicine or medicine no longer needed. Keep all medicine away from children and never share your medicine with anyone.



Benicar Possible Side Effects
Call your doctor right away if you notice any of these side effects: Allergic reaction: Itching or hives, swelling in your face or hands, swelling or tingling in your mouth or throat, chest tightness, trouble breathing. Blood in your urine. Changes in how much or how often you urinate. Chest pain (may be related to your disease and not a side effect). Fast or slow heartbeat. Lightheadedness or fainting. Muscle pain, tenderness, or weakness. Swelling in your hands, ankles, or feet.



Benicar Precautions
You should not use this medication if you have had an allergic reaction to olmesartan, or if you are pregnant.



Benicar Missed Dose
If you miss a dose or forget to use your medicine, use it as soon as you can.
If it is almost time for your next dose, wait until then to use the medicine and skip the missed dose.
Do not use extra medicine to make up for a missed dose.



Benicar Interactions
Using this medicine while you are pregnant can harm your unborn baby.
Use an effective form of birth control to keep from getting pregnant.
If you think you have become pregnant while using the medicine, tell your doctor right away. Make sure your doctor knows if you are breast feeding, or if you have kidney disease or congestive heart failure. If you stop using this medicine, your blood pressure may go up.
High blood pressure usually has no symptoms.
Even if you feel well, do not stop using the medicine without asking your doctor.


Purchasing Benicar Without Prescription
Benicar is a medication classified as an angiotensin II receptor blocker (ARB). It is primarily used for the treatment of high blood pressure, also known as hypertension. While understanding the accessibility of medications is crucial, it is important to approach their usage responsibly and seek professional medical guidance. Here are some key points to consider regarding the purchase of Benicar without a prescription:
Firstly, it is important to note that Benicar is not a narcotic substance, and therefore, it is not considered a prohibited or strictly controlled substance in most countries. However, this does not diminish the importance of using it responsibly and under appropriate medical supervision.
In certain countries, Benicar may be available for purchase without a prescription. However, it is essential to understand that the regulations surrounding the sale of medications vary from one region to another. It is always advisable to adhere to local laws and guidelines when considering purchasing and using any medication.
There may be situations where individuals who have been previously prescribed Benicar contemplate purchasing it without a prescription. For instance, if you have misplaced your prescription or prefer not to incur the cost of a doctor's visit solely for prescription renewal. However, it is crucial to emphasize that using any medication without consulting a healthcare professional can be risky and potentially dangerous.
Self-medication, even with familiar medications like Benicar, carries inherent risks. A qualified healthcare provider understands your individual medical history, potential drug interactions, and can monitor your progress while on the medication. Therefore, it is strongly recommended to seek professional advice and obtain a prescription renewal to ensure the appropriate and safe use of Benicar.
Remember, the well-being of your health should always be prioritized. Seeking medical guidance and consulting a healthcare professional is essential when it comes to using any medication, including Benicar. It is important to prioritize your health, follow proper medical protocols, and consult a healthcare professional for personalized advice and optimal management of your health conditions.