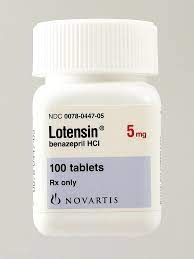 What is Lotensin?
Lotensin belongs to a class of medications called angiotensin-converting enzyme (ACE) inhibitors.

Lotesin is indicated for the treatment of high blood pressure (hypertension). It may be used alone or in combination with other medicines.

Lotensin controls high blood pressure by relaxing blood vessels, so blood flows more smoothly.

Lowering high blood pressure helps prevent strokes, heart attacks and kidney problems.

Lotensin is supplied under the brand name Benace as yellow tablets in blister packs. The product is manufactured by Novartis.


Lotensin Recommendations
Follow the directions for using this medicine provided by your doctor. Take Lotensin exactly as directed.

Take Lotensin tablets by mouth. Swallow the tablets with a drink of water. Lotensin is usually taken once or twice a day with or without food.

Take your doses at regular intervals. Do not take your medicine more often than directed. Do not stop taking Lotensin except on your prescriber's advice. Use this medication regularly in order to get the most benefit from it.

Contact your pediatrician or health care professional regarding the use of this medicine in children. Special care may be needed.

Do not take potassium supplements or salt substitutes containing potassium without talking to your doctor or pharmacist first.

If you miss a dose of Lotensin, take the missed dose as soon as you remember it. However, if it is almost time for the next dose, skip the missed dose and continue your regular dosing schedule. Do not take a double dose to make up for a missed one.



Lotensin Storage
Store at room temperature below 86 degrees F (30 degrees C) away from light and moisture.
Do not store in the bathroom.
Keep all medicines away from children and pets.



Lotensin Possible Side Effects
You may experience dizziness, lightheadedness, drowsiness, headache, fatigue, blurred vision, dry cough, or vomiting as your body adjusts to the medication.
If any of these effects persist or worsen, notify your doctor or pharmacist promptly.
Tell your doctor immediately if any of these unlikely but serious side effects occur: unusual thirst, weakness, confusion, fast heartbeat, fainting, decreased sexual ability, tingling or numbness of the hands/feet, chest pain.
Tell your doctor immediately if any of these highly unlikely but very serious side effects occur: unusual change in the amount of urine (after the first several days of starting Lotensin), seizures, signs of infection (e.g., fever, chills, persistent sore throat).
Lotensin may rarely cause serious (possibly fatal) liver problems.
If you notice any of the following highly unlikely but very serious side effects, seek immediate medical attention: yellowing of the eyes or skin, dark urine, stomach/abdominal pain, persistent fatigue, persistent nausea.
An allergic reaction to Lotensin is unlikely, but seek immediate medical attention if it occurs.
Symptoms of an allergic reaction include: rash, itching, swelling (especially of the face, lips, tongue, or throat), severe dizziness, trouble breathing.
If you notice other effects not listed above, contact your doctor or pharmacist.



Lotensin Precautions
Lotensin should not be used if you have certain medical conditions.
Before using Lotensin, consult your doctor or pharmacist if you have: allergies to other ACE inhibitors (e.g., captopril, lisinopril), history of an allergic reaction which included swelling of the face/lips/tongue/throat (angioedema), urinary problems (inability to make urine or anuria).
Before using Lotensin, tell your doctor or pharmacist your medical history, especially of: kidney disease, liver disease, heart problems, severe loss of body fluids (dehydration through excessive sweating, vomiting, or diarrhea), mineral/electrolyte problems (e.g., imbalance of sodium, potassium, magnesium, calcium), diabetes, strokes, gout, high levels of fats in the blood (high cholesterol or triglycerides), asthma, blood vessel disease (e.g., collagen vascular diseases such as lupus, scleroderma), any allergies in addition to those listed above (including allergies to sulfa drugs or bee/wasp stings, or exposure to certain membranes used for blood filtering).
Lotensin may make you dizzy or drowsy; use caution engaging in activities requiring alertness such as driving or using machinery.
Limit alcoholic beverages.
To minimize dizziness and lightheadedness, get up slowly when rising from a seated or lying position.
Before having surgery, tell your doctor or dentist that you are taking Lotensin.
Hydrochlorothiazide may make you more sensitive to the sun.
Avoid prolonged sun exposure, tanning booths or sunlamps.
Use a sunscreen and wear protective clothing when outdoors.
Caution is advised when using Lotensin in the elderly because they may be more sensitive to the effects of Lotensin, especially the dizziness effect.
Lotensin should be used only when clearly needed during the first three months of pregnancy.
It is not recommended for use during the last six months of the pregnancy due to the risk for fetal harm.
Discuss the risks and benefits with your doctor.
See also the Warning section.
Hydrochlorothiazide passes into breast milk.
Breast-feeding is not recommended due to the potential harm to the nursing infant.
Consult your doctor before breast-feeding.



Lotensin Missed Dose
If you miss a dose, use it as soon as you remember.
If it is near the time of the next dose, skip the missed dose and resume your usual dosing schedule.
Do not double the dose to catch up.



Lotensin Interactions
Lotensin should not be used with the following medications because very serious interactions may occur: cisapride, dofetilide.
If you are currently using any of these medications, tell your doctor or pharmacist before starting benazepril/hydrochlorothiazide.
Before using Lotensin, tell your doctor or pharmacist of all prescription and nonprescription products you may use, especially of: antidiabetic drugs (e.g., insulin, glipizide), cholestyramine, colestipol, corticosteroids (e.g., prednisone), diazoxide, drugs which can increase dizziness (e.g., phenobarbital, narcotic analgesics), drugs which are affected by the acid level in the urine (e.g., amphetamine, methenamine, quinidine), other heart drugs (e.g., digoxin), other high blood pressure medications, lithium, non-steroidal anti-inflammatory drugs (e.g., ibuprofen, indomethacin), potassium supplements (e.g., potassium chloride) or salt substitutes, probenecid, drugs that suppress the immune system (e.g., azathioprine).
Check the labels on all your medicines (e.g., cough-and-cold products, diet aids) because they may contain ingredients that could increase your heart rate or blood pressure.
Ask your pharmacist about the safe use of those products.
Do not start or stop any medicine without doctor or pharmacist approval.