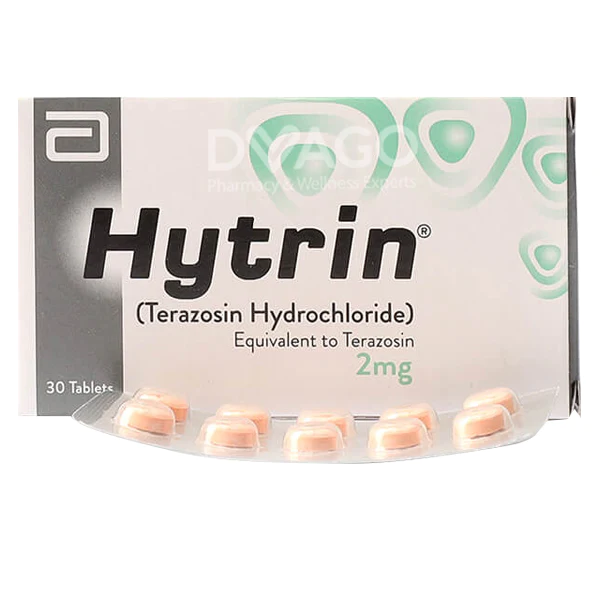 What is Hytrin?
Hytrin is in a group of drugs called alpha-adrenergic blockers.

Hytrin is used for treating signs and symptoms of benign prostatic hyperplasia (BPH).

Hytrin is also used for treating high blood pressure (hypertension).

Hytrin works by relaxing and expanding muscles in the blood vessels, resulting in lowering of blood pressure. In BPH, Hytrin works by relaxing muscles around the urethra (tube that drains urine from the bladder), which improves urinary symptoms.


Hytrin Recommendations
Follow the directions for using this medicine provided by your doctor. Take Hytrin exactly as directed.

1 mg at bedtime is the recommended starting dose for all patients.

The subsequent recommended dose for treating BPH is 5 to 10 mg once a day.

For patients with high blood pressure the recommended subsequent dose range is 1 mg to 5 mg once a day.

Take each dose with a full glass of water. Do not halve the tablets.

If you forget to take Hytrin, take the dose you missed as soon as you remember, and then continue to take it as you would normally. If it is almost time for your next dose, skip the dose you missed and take your next dose as you would normally. Do not take a double dose to make up for the one you missed.



Hytrin Storage
Store at room temperature away from sunlight and moisture.



Hytrin Possible Side Effects
Dizziness, drowsiness, headache, constipation, loss of appetite, fatigue, nasal congestion or dry eyes may occur the first several days as your body adjusts to the medication.
This medication may rarely cause impotence.
To avoid dizziness and lightheadedness when rising from a seated or lying position, get up slowly.
Also limit your intake of alcoholic beverages and avoid getting overheated which will aggravate these effects.
Inform your doctor if you develop chest pain, difficulty breathing, skin rash, swelling of the hands or feet, or ringing in the ears while taking this medication.
Males: very unlikely, but seek immediate medical attention if painful, prolonged erection occurs.
If you notice other effects not listed above, contact your doctor or pharmacist.



Hytrin Precautions
Before taking this medication, tell your doctor if you have liver or kidney disease.
This medication should be used only when clearly needed during pregnancy.
Consult with your doctor before breast-feeding.



Hytrin Missed Dose
If you miss a dose, take as soon as remembered; do not take if it is almost time for the next dose, instead, skip the missed dose and resume your usual dosing schedule.
Do not "double-up" the dose to catch up.
Contact your doctor if 2 or more consecutive doses are missed.



Hytrin Interactions
Inform your doctor about all the medicines you use (both prescription and nonprescription).
Avoid any drugs that increase your heart rate or make you excited like decongestants because it may counteract your blood pressure medicine.
Decongestants are commonly found in over-the-counter cough and cold products.
Do not start or stop any medicine without doctor or pharmacist approval.