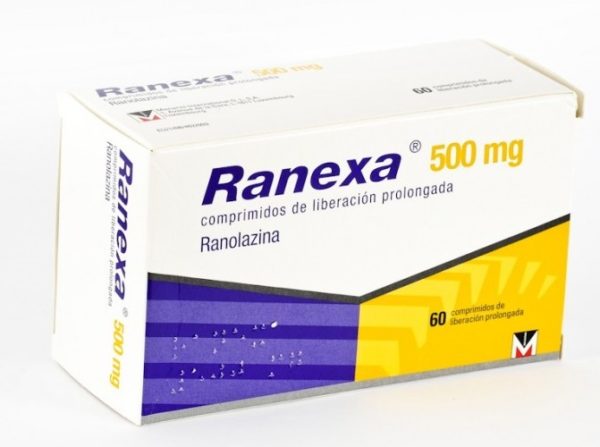 What is Ranolazine?
Ranolazine is used to treat chronic angina (chest pain).

Chronic angina is chest pain, discomfort, or pressure that is brought on by exercise, extreme temperatures, mental or emotional stress, or walking in cold weather, uphill, or after eating.

Ranolazine can help to reduce the number of angina attacks if taken as prescribed.



Ranolazine Recommendations
Follow the directions for using this medicine provided by your doctor.



Ranolazine Storage
Store the medicine in a closed container at room temperature, away from heat, moisture, and direct light.
Ask your pharmacist, doctor, or health caregiver about the best way to dispose of any leftover medicine after you have finished your treatment.
You will also need to throw away old medicine after the expiration date has passed. Keep all medicine away from children and never share your medicine with anyone.



Ranolazine Possible Side Effects
Call your doctor right away if you notice any of these side effects: Allergic reaction: Itching or hives, swelling in your face or hands, swelling or tingling in your mouth or throat, chest tightness, trouble breathing. Blurred vision. Dizziness, lightheadedness, or fainting. Fast, slow, pounding, or uneven heartbeat. Red or dark brown urine. Severe or increased chest pain. Trouble breathing.



Ranolazine Precautions
You should not use this medicine if you have had an allergic reaction to ranolazine, or if you have liver disease, history of certain heart rhythm problems, or if you are using medicine for heart rhythm problems such as quinidine, sotalol (Betapace), or dofetilide (Tikosyn), or if you are using arsenic trioxide (Trisenox), cisapride (Propulsid), medicine for depression (such as amitriptyline, fluoxetine, nortriptyline, Elavil, Pamelor, Prozac, Sarafem, Vivactil), certain antibiotics (such as erythromycin, levofloxacin, moxifloxacin, sparfloxacin, Avelox, Levaquin, Zagam), or medicine to treat mental illness (such as haloperidol, mesoridazine, pimozide, prochlorperazine, quetiapine, thioridazine, ziprasidone, Compazine, Geodon, Haldol, Mellaril, Orap, Serentil, Seroquel).
Do not use this medicine if you are also using diltiazem, verapamil, medicine to treat fungus infections such as ketoconazole (Nizoral), or medicine to treat HIV or AIDS (such as ritonavir).



Ranolazine Missed Dose
If you miss a dose or forget to use your medicine, use it as soon as you can.
If it is almost time for your next dose, wait until then to use the medicine and skip the missed dose.
Do not use extra medicine to make up for a missed dose.



Ranolazine Interactions
Make sure your doctor knows if you are pregnant or breastfeeding, or if you have kidney disease, liver disease, low potassium in your blood, or a family history of a heart condition called congenital long QT syndrome. This medicine may make you dizzy or drowsy.
Avoid driving, using machines, or doing anything else that could be dangerous if you are not alert.
You may also feel lightheaded when standing or sitting up straight, so stand up or sit up slowly. Your doctor will need to check your progress at regular visits while you are using this medicine.
Be sure to keep all appointments. If your symptoms do not improve or if they get worse, call your doctor.