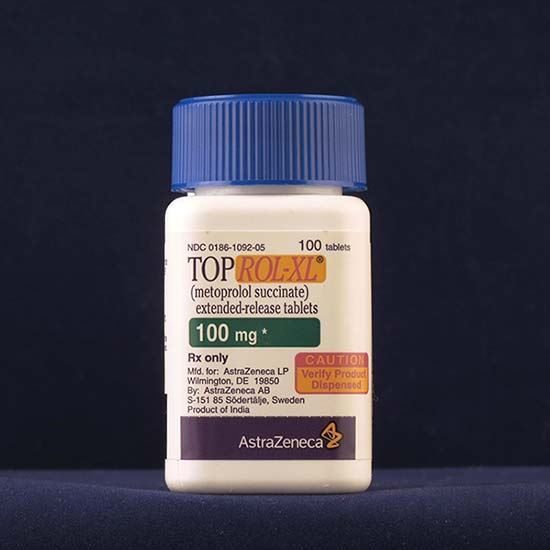 What is Toprol XL?
Toprol-XL is a selective beta receptor blocker used in treatment of several diseases of the cardiovascular system, especially hypertension.

Toprol-XL is indicated for:

• Lowering high blood pressure, also called hypertension, and reducing the risk of complications due to high blood pressure such as stroke, heart attack or early death.
• Preventing angina (heart or chest pain brought on by stress or exercise in patients with coronary heart disease).
• Treating or preventing heart attacks, or reducing your risk of heart complications following a heart attack.
• Treating heart failure (symptomatic mild to severe chronic heart failure in addition to other heart failure medicine), helping increase survival, reduce hospitalisation, improve symptoms, and Quality of Life.
• Treating disturbances of heart rate in patients with heart disease, especially rapid heart beat.
• Treating symptoms of rapid or irregular heart beat in patients without heart disease.
• Prevention of migraine headaches.
• Treating overactive thyroid (hyperthyroidism).

Other uses for Toprol-XL include treatment of certain types of tremors (familial or hereditary essential tremors).

Toprol-XL works by affecting the body's response to some nerve impulses, especially in the heart. As a result, it decreases the heart's need for blood and oxygen and therefore reduces the amount of work the heart has to do. It also widens the blood vessels in the body and helps the heart beat more regularly.

Toprol-XL may be used either alone or in combination with other medicines.

Toprol-Xl is not addictive.


Key Facts: Toprol XL
Toprol XL Recommendations
Follow the directions for using this medicine provided by your doctor. Take Toprol-XL exactly as directed.

Toprol-XL tablets should be swallowed with liquid. The tablets and the divided halves should not be chewed or crushed. Generally Toprol-XL is recommended to be taken together with meals or immediately after meals.

It may take a few weeks before you feel the full benefit of Toprol-XL. Continue to take Toprol-XL even if you feel well. Do not stop taking Toprol-XL tablets suddenly. Your doctor may want you to gradually reduce the amount of Toprol-XL you are taking before stopping completely.

If you plan to have surgery that needs a general anaesthetic, tell your doctor or dentist that you are taking Toprol-XL.



Toprol XL Storage
Store at room temperature between 59 and 86 degrees F (between 15 and 30 degrees C) away from moisture and sunlight.
Do not store in the bathroom.



Toprol XL Possible Side Effects
You may experience dizziness, lightheadedness, drowsiness, and blurred vision as your body adjusts to the medication.
Use caution engaging in activities requiring alertness.
Because beta-blockers reduce blood circulation to the extremities, your hands and feet may be more susceptible to the cold.
Dress warm.
Inform your doctor if you develop breathing difficulties, easy bruising or bleeding, swollen hands or feet, confusion or depression, or a sore throat while taking this medication.
If you notice other effects not listed above, contact your doctor or pharmacist.



Toprol XL Precautions
Before taking this drug, tell your doctor if you have a history of heart, kidney, or liver disease, asthma, bronchitis, emphysema, or other lung disease, diabetes, or an overactive thyroid gland.
You may want to check your pulse every day while taking this medication.
Discuss with your doctor what changes in your pulse rate mean.
Before having surgery, tell the doctor or dentist in charge that you are taking a beta-blocker.
This drug should be used only if clearly needed during pregnancy.
Beta-blockers do appear in breast milk.
Consult with your doctor before breast-feeding.



Toprol XL Missed Dose
If you miss a dose, take it as soon as remembered, but not if it is within 4 hours of next dose.
If it is, skip the missed dose and resume your usual dosing schedule.
Do not "double-up" the doses to catch up.



Toprol XL Interactions
Tell your doctor of all prescription and nonprescription drugs you may use, especially of diuretics, reserpine, cold preparations and nasal decongestants, and of other heart or high blood pressure medications.
Do not start or stop any medicine without doctor or pharmacist approval.


Buying Toprol XL Without a Doctor's Prescription
Toprol XL, a medication classified under the category of beta-blockers, has the generic name metoprolol succinate. It is primarily prescribed for managing high blood pressure (hypertension) and alleviating angina (chest pain). Furthermore, Toprol XL is also used in treating heart failure, preventing migraine headaches, and reducing post-heart attack complications.
Being a non-narcotic medication, Toprol XL is not a banned substance. Moreover, it is not considered a strictly regulated substance, which implies that its regulation may vary across different countries. Consequently, it is possible to purchase Toprol XL without a prescription in some countries.
Purchasing Toprol XL without a prescription might be a reasonable course of action if you have previously been prescribed the medication by a healthcare provider but have either lost the prescription or wish to avoid the expense of a doctor's appointment for its renewal. In such situations, obtaining Toprol XL from a country where it is sold without a prescription could be a viable solution, as long as you recognize the potential risks associated with this approach.
Nonetheless, it is important to stress that taking any medication without a doctor's guidance can be hazardous, and this holds true for Toprol XL as well. The medication may have interactions with other drugs you are currently taking or may not be appropriate for your specific health condition. Adhering to your doctor's recommendations and using Toprol XL only as instructed is of utmost importance.
In summary, while Toprol XL is neither a narcotic nor a strictly regulated substance and may be accessible without a prescription in some countries, exercising caution when using it is essential. It is vital to consult a healthcare professional before initiating or continuing any medication, including Toprol XL, to ensure your safety and well-being.