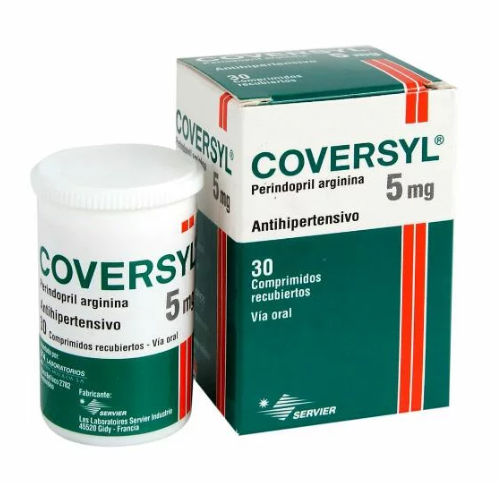 What is Coversyl?
Coversyl is a long-acting angiotensin converting enzyme (ACE) inhibitor.

Coversyl is indicated for the treatment of:

• High blood pressure (hypertension)
• Heart failure
• Coronary artery disease

In patients with coronary artery disease, Coversyl has been shown to reduce some of the risks, including heart attacks.

Coversyl can be taken alone or in combination with thiazide diuretics that help rid the body of excess water.

Coversyl works by preventing a chemical in the blood called angiotensin I from converting into a more potent form that increases salt and water retention in the body. Coversyl also improves the flow of blood through the circulatory system.


Key Facts: Coversyl
Coversyl Recommendations
Follow the directions for using this medicine provided by your doctor. Take Coversyl exactly as directed.

The usual dosage is 2mg, 4mg or 8mg once daily for high blood pressure and for people with coronary artery disease or 2mg to 8mg once daily for heart failure. The dose of Coversyl you may need each day will be decided and adjusted by your doctor.

Swallow your tablet(s) with a glass of water, preferably in the morning before a meal.

You must take Coversyl regularly for it to be effective. Since blood pressure declines gradually, it may be several weeks before you get the full benefit of the drug. Continue taking the tablets for as long as your doctor tells you.

If you forget to take a dose, take one as soon as you remember unless it is nearly time for your next dose. Do not take two doses on the same day to make up.

Keep your tablets at room temperature, away from heat and moisture.



Coversyl Storage
Store the medicine in a closed container at room temperature, away from heat, moisture, and direct light.
Ask your pharmacist, doctor, or health caregiver about the best way to dispose of any leftover medicine after you have finished your treatment.
You will also need to throw away old medicine after the expiration date has passed. Keep all medicine away from children and never share your medicine with anyone.



Coversyl Possible Side Effects
Call your doctor right away if you notice any of these side effects: Allergic reaction: Itching or hives, swelling in your face or hands, swelling or tingling in your mouth or throat, chest tightness, trouble breathing. Change in how much or how often you urinate. Chest pain (may be related to your disease and not a side effect). Confusion, weakness, uneven heartbeat, shortness of breath, or numbness or tingling in hands, feet, or lips. Dry mouth, increased thirst, muscle cramps, nausea or vomiting. Fever, chills, cough, sore throat, and body aches. Lightheadedness or fainting. Nausea, vomiting, loss of appetite, pain in your upper stomach.
Problems urinating, pain in side or lower back. Swelling in your hands, ankles, or feet. Yellowing of your skin or the whites of your eyes.



Coversyl Precautions
You should not use this medicine if you have had an allergic reaction to perindopril or other blood pressure medicine (such as Accupril?, Altace?, Lotensin?, Lotrel?, Monopril?, Prinivil?, Vasotec?, Zestril?).
You should not use this medicine if you are pregnant.



Coversyl Missed Dose
If you miss a dose or forget to use your medicine, use it as soon as you can.
If it is almost time for your next dose, wait until then to use the medicine and skip the missed dose.
Do not use extra medicine to make up for a missed dose.



Coversyl Interactions
Using this medicine while you are pregnant can harm your unborn baby.
Use an effective form of birth control to keep from getting pregnant.
If you think you have become pregnant while using the medicine, tell your doctor right away. Make sure your doctor knows if you are breast feeding, or if you have diabetes, heart disease, kidney disease, liver disease, or lupus.
Tell your doctor if you have congestive heart failure. Make sure any doctor or dentist who treats you knows that you are using this medicine.
You may need to stop using this medicine several days before having surgery or medical tests. This medicine may make you dizzy or drowsy.
Avoid driving, using machines, or doing anything else that could be dangerous if you are not alert. If you stop using this medicine, your blood pressure may go up.
High blood pressure usually has no symptoms.
Even if you feel well, do not stop using the medicine without asking your doctor.



Coversyl no Prescription
Coversyl, known generically as perindopril, is a medication that falls under the category of Angiotensin Converting Enzyme (ACE) inhibitors. This class of drugs is primarily used for the treatment of high blood pressure (hypertension) and heart failure. They work by relaxing blood vessels, allowing blood to flow more smoothly and the heart to pump more efficiently.
Despite being a prescription medication, Coversyl is not a narcotic or a strictly controlled substance. In other words, it's not classified as a drug with a high potential for abuse or addiction. Consequently, it's not subject to the stringent regulations that govern substances such as opioids.
In certain countries, you can purchase Coversyl over-the-counter without a prescription. These countries have different regulatory standards for pharmaceuticals, allowing patients easier access to certain medications.
It might make sense to purchase Coversyl without a prescription if the medication has already been prescribed to you by a healthcare provider, but you've misplaced your prescription or are unable to visit the doctor for a renewal. This could be a convenient way to ensure continuity of treatment.
However, it's crucial to stress that taking any medication without a healthcare provider's oversight can be risky, and Coversyl is no exception. Even though it's not a controlled substance, it can still cause side effects and interact with other medications. Some individuals might also have conditions or allergies that make taking Coversyl unsafe.
Therefore, it's always recommended to consult with a healthcare provider before starting or continuing any medication, including Coversyl. Self-medication can lead to unintended consequences and may even exacerbate the health issues you're trying to address. Always prioritize your health and safety by seeking professional medical advice when it comes to medications.