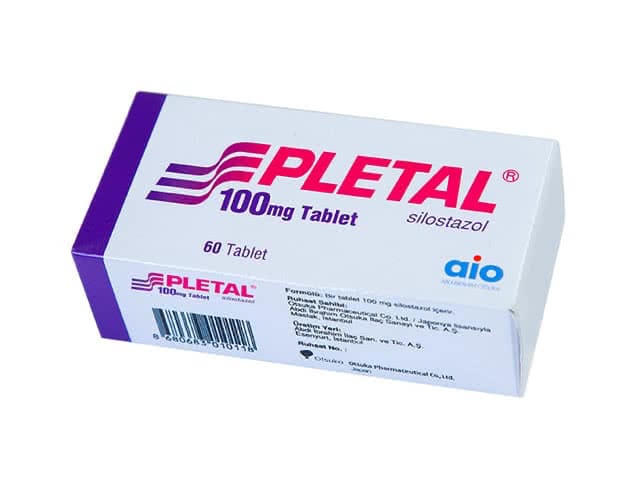 What is Pletal?
Pletal is an antiplatelet medicine.

Pletal is used for treating symptoms of intermittent claudication (leg pain) that occurs during walking or exercise.

This type of pain is caused by poor blood circulation (peripheral vascular disease) and is usually relieved by rest.

Pletal helps increase walking distance by improving blood and oxygen flow in the legs.



Pletal Recommendations
Follow the directions for using this medicine provided by your doctor. Take your medicine exactly as directed.

The usual recommended dose is 100 mg taken at least half an hour before or two hours after breakfast and dinner.



Pletal Storage
Store at room temperature between 59 and 86 degrees F (15 to 30 degrees C) away from light and moisture.



Pletal Possible Side Effects
Headache, diarrhea or dizziness may occur.
If any of these effects persist or worsen, notify your doctor promptly.
Tell your doctor immediately if you have any of these unlikely but serious side effects: swelling, weakness, chest pain, trouble breathing or unusually fast, slow or irregular pulse.
If you notice other effects not listed above, contact your doctor or pharmacist.



Pletal Precautions
Tell your doctor your medical history, including any allergies, liver disease or heart disease (e.g., congestive heart failure).
This medication may make you dizzy; use caution engaging in activities requiring alertness such as driving or using machinery.
Limit alcoholic beverages because they can intensify the dizziness effect of this medication.
This medication should be used only when clearly needed during pregnancy.
Discuss the risks and benefits with your doctor.
It is not known whether this drug passes into breast milk.
Because of the potential risk to the infant, breast-feeding while using this medication is not recommended.
Consult your doctor before breast-feeding.



Pletal Missed Dose
If you miss a dose, use it as soon as you remember.
If it is near the time of the next dose, skip the missed dose and resume your usual dosing schedule.
Do not double the dose to catch up.



Pletal Interactions
Tell your doctor of all prescription and nonprescription medication you may use, especially azole antifungal drugs (e.g., ketoconazole, itraconazole, fluconazole); macrolide antibiotics (e.g., erythromycin, clarithromycin); "blood thinners" (e.g., warfarin, heparins); omeprazole, diltiazem; aspirin (or NSAIDs such as ibuprofen); clopidogrel, ticlopidine, fluvoxamine, fluoxetine, nefazodone or sertraline.
Avoid grapefruit juice while using this medication unless your doctor instructs you otherwise.
Do not start or stop any medicine without doctor or pharmacist approval.