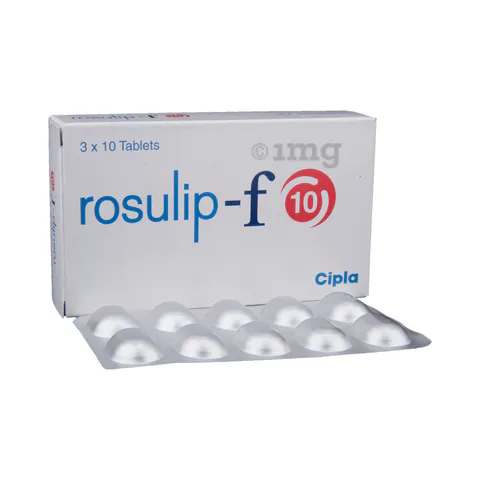 What is Rosulip-F?
Rosulip-F is a combination drug for the treatment of elevated triglycerides levels.

It is used in the treatment of hypertriglyceridemia, mixed dyslipidemia, and hypercholesterolemia.

Each film-coated tablet contains

• rosuvastatin 5 mg
• fenofibrate BP 145 mg

or

• rosuvastatin 10 mg
• fenofibrate BP 145 mg



Rosulip-F Recommendations
Follow the directions for using this medicine provided by your doctor. Take Rosulip-F exactly as directed.

The usual recommended dosage is one tablet once daily.



Rosulip-F Storage
Store at room temperature away from light and moisture.
Store the U.S.
product between 68-77 degrees F (20-25 degrees C).
Store the Canadian product between 59-86 degrees F (15-30 degrees C).
Do not store in the bathroom.
Keep all medicines away from children and pets.



Rosulip-F Possible Side Effects
Remember that your doctor has prescribed this medication because the benefit to you is greater than the risk of side effects.
Many people using this medication do not have serious side effects.This drug may infrequently cause muscle pain, tenderness, or weakness (which can rarely lead to a very serious condition called rhabdomyolysis).
Seek immediate medical attention if you develop these muscle problems (especially with fever or unusual tiredness).Tell your doctor immediately if any of these highly unlikely but very serious side effects occur: yellowing eyes and skin, dark urine, stomach/abdominal pain, severe nausea, vomiting, fatigue, change in the amount of urine.A serious allergic reaction to this drug is unlikely, but seek immediate medical attention if it occurs.
Symptoms of a serious allergic reaction include: rash, itching, swelling, dizziness, trouble breathing.If you notice other effects not listed above, contact your doctor or pharmacist.



Rosulip-F Precautions
Before taking Rosulip-F, tell your doctor or pharmacist if you are allergic to it; or to other "statins"; or if you have any other allergies.This medication should not be used if you have certain medical conditions.
Before using this medicine, consult your doctor or pharmacist if you have: active liver disease.Before using this medication, tell your doctor or pharmacist your medical history, especially of: heart disease, history of liver disease, kidney disease, underactive thyroid (hypothyroidism), alcohol use.The rare development of severe muscle damage (see Side Effects) can infrequently lead to serious kidney problems.
This medication is usually temporarily stopped if you have any condition which can increase your risk of developing kidney problems.
Before stopping your medication, notify your doctor immediately if you have any of the following conditions: major surgery, trauma, serious illness (e.g., sepsis, severe metabolic/endocrine/electrolyte disorders), very low blood pressure, uncontrolled seizures.Limit alcoholic beverages.
Daily use of alcohol may increase your chance for serious side effects.Caution is advised when using this drug in the elderly because they may be more sensitive to its side effects, especially muscle injury.This medication must not be used during pregnancy.
If you become pregnant or think you may be pregnant, inform your doctor immediately.
Women of child-bearing age should use reliable form(s) of birth control (contraception) while taking this medication since it may cause harm to an unborn baby.
Consult your doctor for more details.It is not known if this drug passes into breast milk.
Because of the potential risk of undesirable effects on a nursing infant, breast-feeding is not recommended while using this drug.
Consult your doctor before breast-feeding.



Rosulip-F Missed Dose
If you miss a dose, use it as soon as you remember.
If it is near the time of the next dose, skip the missed dose and resume your usual dosing schedule.
Do not double the dose to catch up.



Rosulip-F Interactions
Your doctor or pharmacist may already be aware of any possible drug interactions and may be monitoring you for them.
Do not start, stop, or change the dosage of any medicine before checking with them first.See also How to Use section.Use caution if the following drugs are combined with Rosulip-F because serious side effects such as muscle injury (myopathy) could infrequently occur: fibrates (e.g., gemfibrozil, fenofibrate), high-dose niacin (1 gram or more per day), cyclosporine.Before using this medication, tell your doctor or pharmacist of all prescription and nonprescription/herbal products you may use, especially of: antacids, birth control pills, cholestyramine, colestipol, warfarin.