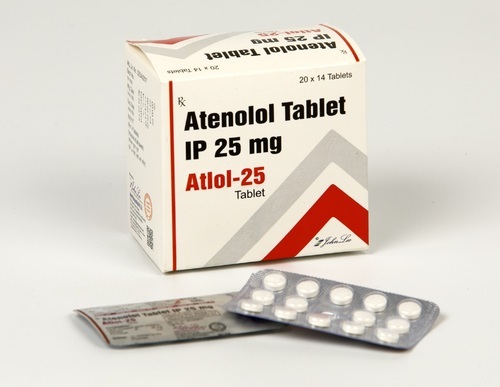 What is Atenolol?
Atenolol belongs to a group of medicines known as beta-blockers.

Atenolol is indicated for:

• treatment of high blood pressure (hypertension);
• prevention of angina (chest pain);
• treatment of irregular heart beats (cardiac dysrhythmias);
• reduction of risk of heart complication following heart attack (myocardial infarction).

Atenolol is not addictive.


Key Facts: Atenolol
Atenolol Recommendations
Follow the directions for using this medicine provided by your doctor. Take Atenolol exactly as directed.

Atenolol may be taken on an empty stomach or with food. The dosage may differ depending on your condition and whether you are taking any other medicines. Your doctor will tell you exactly how much you should take. The elderly may require a lower dose of Atenolol.

To properly control your condition, Atenolol must be taken every day. Continue taking Atenolol for as long as your doctor prescribes. Do not stop taking Atenolol or lower the dose without first checking with your doctor. It usually takes 1 to 2 weeks before the full effect of Atenolol is noticed.

If you forget a dose, take it as soon as you remember, and then go back to taking your tablets at the same time you would normally. If it is more than six hours since your last dose, skip the dose you missed and take your next dose when you would normally. Do not take a double dose to make up for the dose you missed.

Store your Atenolol tablets at room temperature. Avoid exposure to heat, light and moisture.



Atenolol Storage
Store the medicine at room temperature, away from heat, moisture, and direct light. Keep all medicine out of the reach of children and never share your medicine with anyone.



Atenolol Possible Side Effects
Call your doctor right away if you notice any of these side effects: Chest pain (may be related to your disease and not a side effect) Fainting or severe dizziness Slow, fast, or irregular heartbeat Swelling of your feet or ankles Unusual bleeding or bruising Wheezing or trouble breathing



Atenolol Precautions
You should not use this medicine if you have had an allergic reaction to any type of beta blocker medicine (such as Atenolol, metoprolol, propranolol, Corgard, Inderal, Lopressor, Toprol, Tenormin), or if you have low blood pressure or certain heart problems.
Talk with your doctor about what these heart problems are.



Atenolol Missed Dose
If you miss a dose or forget to take your medicine, take it as soon as you can.
If your next regular dose is less than 8 hours away, wait until then to take the medicine and skip the missed dose. Do not use extra medicine to make up for a missed dose.



Atenolol Interactions
Make sure your doctor knows if you are pregnant or breastfeeding, or if you have asthma, emphysema, bronchitis, kidney disease, overactive thyroid, or diabetes. Do not stop using this medicine suddenly without asking your doctor.
You may need to slowly decrease your dose before stopping it completely. This medicine may raise or lower your blood sugar, and it may cover up symptoms of very low blood sugar (hypoglycemia). This medicine may make you dizzy.
Avoid driving, using machines, or doing anything else that could be dangerous if you are not alert. Make sure any doctor or dentist who treats you knows that you are using this medicine. If you stop using this medicine, your blood pressure may go up.
High blood pressure usually has no symptoms.
Even if you feel well, do not stop using the medicine without asking your doctor.


Atenolol no Prescription
Atenolol is a medication that belongs to a class of drugs known as beta blockers. These drugs work by affecting the body's response to certain nerve impulses, particularly in the heart. As a result, they decrease the heart's need for blood and oxygen by reducing its workload. This can help to prevent heart attacks and treat other heart-related conditions.
Atenolol is primarily used for treating high blood pressure (hypertension), angina (chest pain), and heart rhythm disorders. It is also used for reducing the risk of heart complications after a heart attack. By slowing the heart rate and reducing the force of heart muscle contraction, it can help control various heart conditions and improve survival after a heart attack.
It's important to note that atenolol is not a narcotic drug. This means it's not a substance that's considered to have a high potential for abuse or addiction. Narcotic drugs are often tightly regulated or even prohibited in many countries due to their potential for misuse.
However, atenolol is also not a strictly controlled substance. In other words, it doesn't fall under the same regulations and restrictions as some other types of medications, such as certain painkillers or sedatives. Nonetheless, atenolol is a prescription medication in many countries, which means a doctor needs to evaluate your condition and prescribe the drug to ensure it is safe and appropriate for you.
There are some countries where you can buy atenolol without a prescription. These include certain countries in Central and South America, and some parts of Asia. But even in these locations, it's important to be aware that the use of atenolol should be under the guidance of a healthcare professional.
In situations where atenolol has been prescribed to you in the past for a chronic condition, it might make sense to buy it without a prescription if you've forgotten your receipt or want to avoid the cost of a doctor's visit to renew your prescription. However, this should only be done if you're already familiar with the medication, its effects, and your dosage requirements.
Regardless of these circumstances, using any medication without a doctor's consultation is potentially dangerous. This is true for atenolol as well. Atenolol can have serious side effects, especially if used improperly. It can cause a slow or uneven heartbeat, dizziness, or fainting. In rare cases, it can even cause serious heart problems.
In conclusion, while it may be possible to purchase atenolol without a prescription in some countries, it is always recommended to consult with a healthcare professional before starting or continuing its use. Your health and safety should always come first when considering the use of any medication.