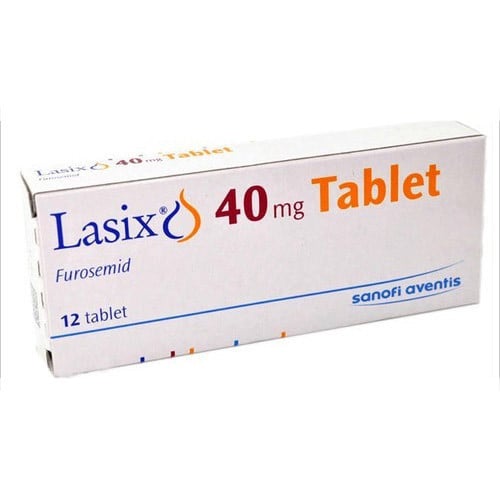 What is Lasix?
Lasix belongs to a family of drugs called diuretics. A diuretic helps reduce the amount of excess fluid in the body.

Lasix is indicated for the treatment of oedema (swelling of the ankles, feet, legs or even the brain or lungs) associated with congestive heart failure, cirrhosis of the liver and renal disease including the nephrotic syndrome.

Lasix is also used in adults for the treatment of high blood pressure (hypertension). It can be used alone or in combination with other medicines.

Lasix decreases the amount of fluid in the body by increasing the amount of salt and water lost in the urine.

Lasix is not addictive.



Lasix Recommendations
Follow the directions for using this medicine provided by your doctor. Take Lasix exactly as directed.

Lasix may be taken on an empty stomach or with food. Take Lasix tablets with a glass of water.

Lasix tablets are usually taken once or twice a day.

Take Lasix tablets at about the same time each day unless your doctor tells you otherwise. Taking your medicine at the same time each day will have the best effect. It will also help you remember when to take the medicine. Do not stop taking Lasix, or change the dosage, without checking with your doctor.

If your doctor prescribes Lasix tablets to be taken once a day, it is best done in the morning, for example, before breakfast.

If you are taking Lasix tablets more than once a day, take your first dose immediately before breakfast and take your last dose around 2:00 pm (on an empty stomach), unless your doctor tells you otherwise.

Make sure you drink enough water during any exercise and during hot weather when you are taking Lasix, especially if you sweat a lot.

If you forget to take Lasix and there is still a long time to go before your next dose, take it as soon as you remember, and then go back to taking it as you would normally. If it is almost time for your next dose, skip the dose you missed and take the next dose when it is due. Do not take a double dose to make up for a missed one.

Keep your Lasix tablets at room temperature, away from heat and moisture.



Lasix Storage
Store at room temperature away from moisture and sunlight.
Do not store in the bathroom.



Lasix Possible Side Effects
This drug may cause dizziness and lightheadedness especially during the first few days as your body adjusts to it.
Rise slowly from a seated or lying position.
It may also increase sensitivity to sunlight.
Blurred vision, loss of appetite, itching, stomach upset, headache and weakness may also occur during initial therapy as your body adjusts to the medication.
Inform your doctor if you develop muscle cramps, pain, nausea or vomiting while taking this medication.
It may be a sign of low blood potassium.
Contact your doctor if you experience dry mouth, thirst, unusual bleeding or bruising, rash, yellow eyes or skin, severe nausea or vomiting, or ringing in ears.
This medication increases urination.
Expect this effect.
In the unlikely event you have an allergic reaction to this drug, seek medical attention immediately.
Symptoms of an allergic reaction include rash, itching, swelling, dizziness or trouble breathing.
If you notice other effects not listed above, contact your doctor or pharmacist.



Lasix Precautions
Before using this drug, tell your doctor your medical history especially of kidney problems, unusual decrease in urine output, liver disease, diabetes and of any drug allergies.
This drug may reduce the potassium levels in your blood.
Ask your doctor about adding potassium to your diet.
A potassium supplement may be prescribed by your doctor.
Lasix may make you more sensitive to sunlight.
Use a sunscreen and wear protective clothing.
Alcohol may intensify side effects.
Limit your alcohol intake.
Lasix should be used only when clearly needed during pregnancy.
Discuss the risks and benefits with your doctor.
This drug is excreted into breast milk.
Though, to date, no problems have been reported to nursing infants, consult your doctor before breast-feeding.



Lasix Missed Dose
If you miss a dose, take as soon as remembered; do not take if it is almost time for the next dose, instead, skip the missed dose and resume your usual dosing schedule.
Do not "double-up" the dose to catch up.



Lasix Interactions
Tell your doctor of all prescription and nonprescription drugs you may use, especially of "blood thinner" drugs such as warfarin, lithium, aminoglycosides (e.g., neomycin, kanamycin, gentamicin), large doses of salicylates (aspirin and aspirin-like drugs), sucralfate, ethacrynic acid or other diuretics ("water pills"), digoxin, diabetic medication, NSAID (e.g., ibuprofen, naproxen), cisplatin, blood pressure medication, probenecid, cyclosporine, nasal decongestants and diet-control medicines.
Do not start or stop any medicine without doctor or pharmacist approval.