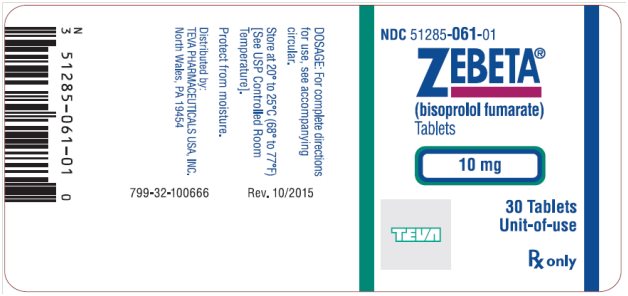 What is Zebeta?
Zebeta belongs to a group of medicines known as beta blockers.

Zebeta is used for the treatment of high blood pressure (hypertension).



Zebeta Recommendations
Follow the directions for using this medicine provided by your doctor. Take your medicine exactly as directed.

The usual starting dose is 2.5 - 5 mg once daily which subsequently may be increased up to 10 - 20 mg daily.



Zebeta Storage
Store at room temperature between 59 and 86 degrees F (between 15 and 30 degrees C) away from moisture and sunlight.
Do not store in the bathroom.



Zebeta Possible Side Effects
You may experience dizziness, lightheadedness, drowsiness, and blurred vision as your body adjusts to the medication.
Use caution engaging in activities requiring alertness.
Because beta-blockers may reduce blood circulation to the extremities, your hands and feet may be cold.
Dress warm.
Inform your doctor if you develop: easy bruising or bleeding, swollen hands or feet, confusion, depression, a sore throat.
In the unlikely event you have an allergic reaction to Zebeta, seek medical attention immediately.
Symptoms of an allergic reaction include: rash, itching, swelling, dizziness, trouble breathing.
If you notice other effects not listed above, contact your doctor or pharmacist.



Zebeta Precautions
Before taking Zebeta, tell your doctor if you have a history of: heart disease, kidney disease, liver disease, asthma, bronchitis, emphysema, any other lung disease, diabetes, overactive thyroid gland, any drug allergies.
Before having surgery, tell the doctor or dentist in charge that you are taking a beta-blocker.
Zebeta should be used only if clearly needed during pregnancy.
Discuss the risks and benefits with your doctor.
Zebeta is excreted into breast milk and though no problems have been noted, the possibility for adverse effects to the infant exists.
Consult your doctor before breast-feeding.



Zebeta Missed Dose
If you miss a dose, take as soon as remembered but not if it is within 4 hours of next dose (8 hours for penbutolol, atenolol, nadolol).
If it is, skip the missed dose and resume your usual dosing schedule.
Do not double-up the dose to catch up.



Zebeta Interactions
Tell your doctor of all prescription and nonprescription drugs you may use, especially of: diuretics, cold preparations and nasal decongestants, reserpine, other heart or high blood pressure medications, St John s wort.
Do not start or stop any medicine without doctor or pharmacist approval.