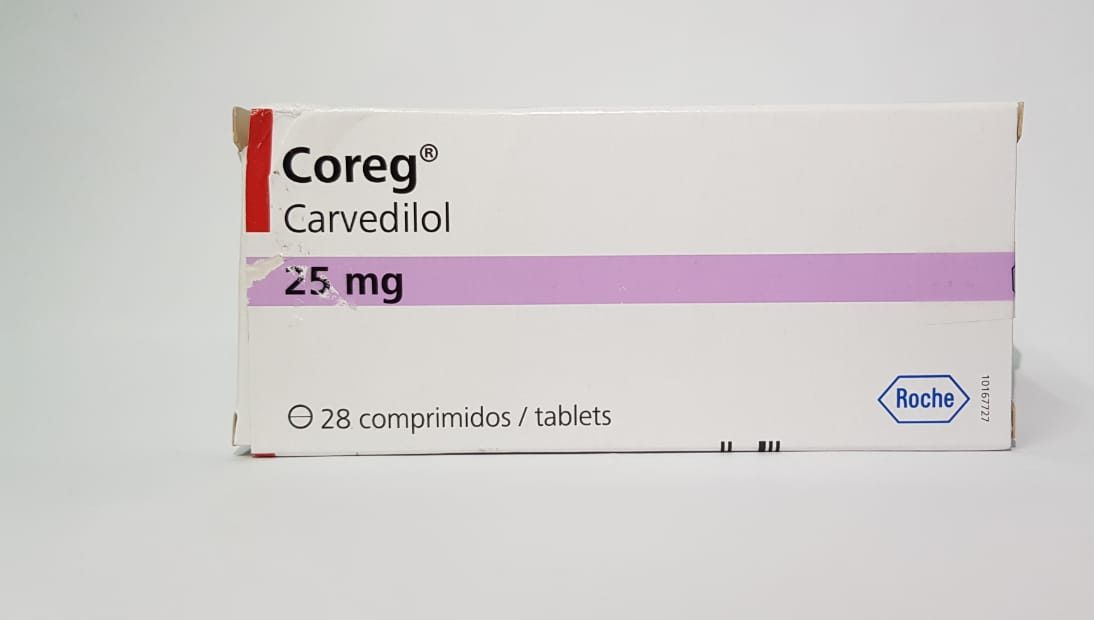 What is Coreg?
Coreg is a non-selective beta blocker.

Coreg is approved to:

• Help those with heart failure live longer
• Reduce the risk of death if you have had a heart attack that reduced how well your heart pumps
• Treat hypertension, also known as high blood pressure

Coreg works by relaxing the blood vessels, slowing down the heart, and decreasing the amount of blood it pumps out. This decreases blood pressure, helps the heart pump more efficiently, and reduces the workload on the heart.


Coreg Recommendations
Follow the directions for using this medicine provided by your doctor. Take Coreg exactly as directed.

Take Coreg by mouth with food. Take 1 capsule of Coreg each morning. Do not crush, chew or take in divided doses.

Take Coreg on a regular schedule to get the most benefit from it.

Do not suddenly stop taking Coreg without first talking with your doctor. If your doctor decides that you should stop taking Coreg, he or she may slowly reduce your doses over a period of time before stopping it completely.

If you miss a dose of Coreg, take it as soon as possible. If it is almost time for your next dose, skip the missed dose and go back to your regular dosing schedule. Do not take 2 doses at once.

Keep the capsules at room temperature, away from excess heat and moisture.



Coreg Storage
Store at room temperature below 86 degrees F (30 degrees C) away from light and moisture.



Coreg Possible Side Effects
Loss of appetite, dizziness, fatigue/drowsiness, headache, diarrhea, nausea/vomiting, muscle/joint aches might occur.
If these persist or worsen, notify your doctor.
Report promptly any rapid weight gain or shortness of breath or ankle or foot swelling.
Unlikely but report promptly unusual bleeding or bruising, very slow heartbeat, a large change in amount of urine or any vision changes.
Very unlikely but report promptly yellowing skin or eyes, fainting, cold hands or feet, chest pain, mood or mental problems (including sleep disturbances), decreased sex drive (male) or irregular heartbeat, or persistent sore throat.
Notify your doctor immediately if an allergic reaction occurs while taking this medication, however unlikely.
Symptoms include difficulty breathing, fever, skin rash, hives or itching.
Contact lens wearers may develop eye dryness.
If you notice other effects not listed above, contact your doctor or pharmacist.



Coreg Precautions
Before taking this drug, tell your doctor your entire medical history, including any allergies (especially drug allergies), history of severe heart failure, asthma, heart or blood vessel disease, kidney or liver disease, diabetes, high thyroid activity, pheochromocytoma or Prinzmetal's chest pain.
Limit alcohol intake, as it may enhance certain side effects of this medication.
If you experience dizziness or fatigue, use extreme caution if operating machinery or performing hazardous tasks.
Stand slowly to minimize the chance of dizziness or fainting.
This medication should be used only when clearly needed during pregnancy.
Discuss the risks and benefits with your doctor.
It is not known whether this drug is excreted into breast milk.
Because of the potential risk to the infant, breast-feeding while using this drug is not recommended.
Consult your doctor before breast-feeding.
Caution is advised when this drug is used in the elderly.



Coreg Missed Dose
If you miss a dose, take it as soon as you remember.
If it is near the time of the next dose, skip the missed dose and resume your usual dosing schedule.
Do not "double-up" the dose to catch up.



Coreg Interactions
Tell your doctor of all nonprescription and prescription medication you may take, especially reserpine, clonidine, digoxin, rifampin, certain calcium channel blockers (e.g., diltiazem and verapamil), insulin and oral hypoglycemics for diabetes (e.g., glipizide, glyburide), diuretics (water pills such as furosemide) and certain anesthetics (e.g., cyclopropane and trichloroethylene).
Do not start or stop any medicine without doctor or pharmacist approval.