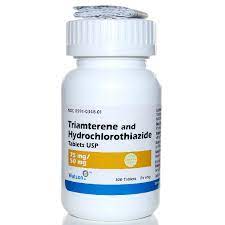 What is Triamterene?
Triamterene is a potassium-sparing diuretic (water pill).

This is a combination medicine containing triamterene 50 mg and benzthiazide 25 mg in one pill.

Triamterene & benzthiazide are used for the control of high blood pressure and swelling associated with heart failure, kidney failure, liver problems, and some other conditions.



Triamterene Recommendations
Follow the directions for using this medicine provided by your doctor. Take your medicine exactly as directed.

The usual adult dose is 2 pills taken in the morning after breakfast and 1 pill taken after midday meal. A lower dosage may be required for elderly patients.



Triamterene Storage
Store the medicine at room temperature, away from heat, moisture, and direct light. Keep all medicine out of the reach of children and never share your medicine with anyone.



Triamterene Possible Side Effects
Call your doctor right away if you notice any of these side effects: Confusion, weakness, irregular heartbeat, shortness of breath, numbness or tingling in hands, feet, or lips Dry mouth, increased thirst, muscle cramps, nausea or vomiting Fever, chills, cough, hoarseness Problems urinating, pain in side or lower back Skin rash or itching Unusual bleeding or bruising



Triamterene Precautions

You should not use this medicine if you have had an allergic reaction to triamterene or sulfa drugs, or if you have liver disease, kidney disease, high potassium levels in your blood (hyperkalemia), or are unable to urinate.
You should not use this medicine if you are using potassium supplements, salt substitutes, or other diuretics such as spironolactone (Aldactazide, Aldactone) or amiloride (Midamor, Moduretic).



Triamterene Missed Dose
If you miss a dose or forget to take your medicine, take it as soon as you can.
If it is almost time for your next dose, wait until then to take the medicine and skip the missed dose. Do not use extra medicine to make up for a missed dose.



Triamterene Interactions
Make sure your doctor knows if you are pregnant or breastfeeding, or if you have diabetes, lupus, gout, pancreatitis, or kidney stones. This medicine may make you dizzy.
Avoid driving, using machines, or doing anything else that could be dangerous if you are not alert. This medicine may make your skin more sensitive to sunlight.
Use a sunscreen when you are outdoors.
Avoid sunlamps and tanning beds. Make sure any doctor or dentist who treats you knows that you are using this medicine.