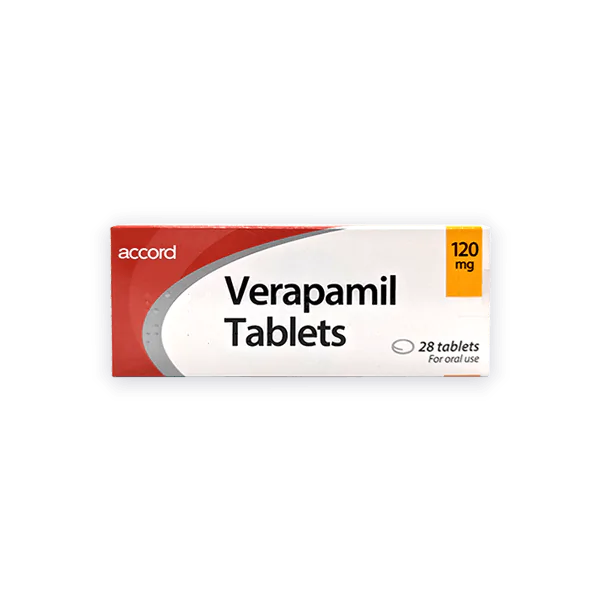 What is Verapamil?
Verapamil belongs to a group of medicines known as calcium channel blockers.

Verapamil is used in the treatment of high blood pressure (hypertension), heart and chest pain (angina pectoris), and for long-term prevention of heart attacks.

Verapamil is available as a sustained-release (SR) formulation under the brand name Calaptin SR (120 mg and 240 mg pills) and as a regular formulation (40 mg and 80 mg pills).



Verapamil Recommendations
Follow the directions for using this medicine provided by your doctor. Use your medicine exactly as directed.

The usual adult dosage for high blood pressure is one Verapamil 240 mg tablet daily. Elderly patients may require a lower starting dose (120 mg daily).

For heart attacks prevention the usual dosage is 240 mg - 480 mg daily. The average daily dose is 360 mg.

The average daily dose for angina prevention is also 360 mg.



Verapamil Storage
Store the medicine in a closed container at room temperature, away from heat, moisture, and direct light.
Ask your pharmacist, doctor, or health caregiver about the best way to dispose of any leftover medicine after you have finished your treatment.
You will also need to throw away old medicine after the expiration date has passed. Keep all medicine away from children and never share your medicine with anyone.



Verapamil Possible Side Effects
Call your doctor right away if you notice any of these side effects: Allergic reaction: Itching or hives, swelling in your face or hands, swelling or tingling in your mouth or throat, chest tightness, trouble breathing. Breathing problems or trouble taking a breath. Chest pain. Dizziness or low blood pressure. Fast, slow, uneven, or pounding heartbeat. Severe rash. Swelling in your legs, feet, or ankles. Unusual tiredness or weakness.



Verapamil Precautions
You should not use this medicine if you have had an allergic reaction to verapamil, or if you have low blood pressure.
You might not be able to use this medicine if you have certain heart problems.
Talk to your doctor about these heart problems.



Verapamil Missed Dose
If you miss a dose or forget to use your medicine, use it as soon as you can.
If it is almost time for your next dose, wait until then to use the medicine and skip the missed dose.
Do not use extra medicine to make up for a missed dose.



Verapamil Interactions
Make sure your doctor knows if you are pregnant or breast feeding.
Tell your doctor if you have liver disease, kidney disease, or a condition called myasthenia gravis. This medicine may make you dizzy or lightheaded.
You should avoid driving or using machines.
You should not do anything else that could be dangerous if you are not alert. Do not stop using this medicine suddenly without asking your doctor.
You may need to slowly decrease your dose before stopping it completely. Your doctor will need to check your blood at regular visits while you are using this medicine.
Be sure to keep all appointments.