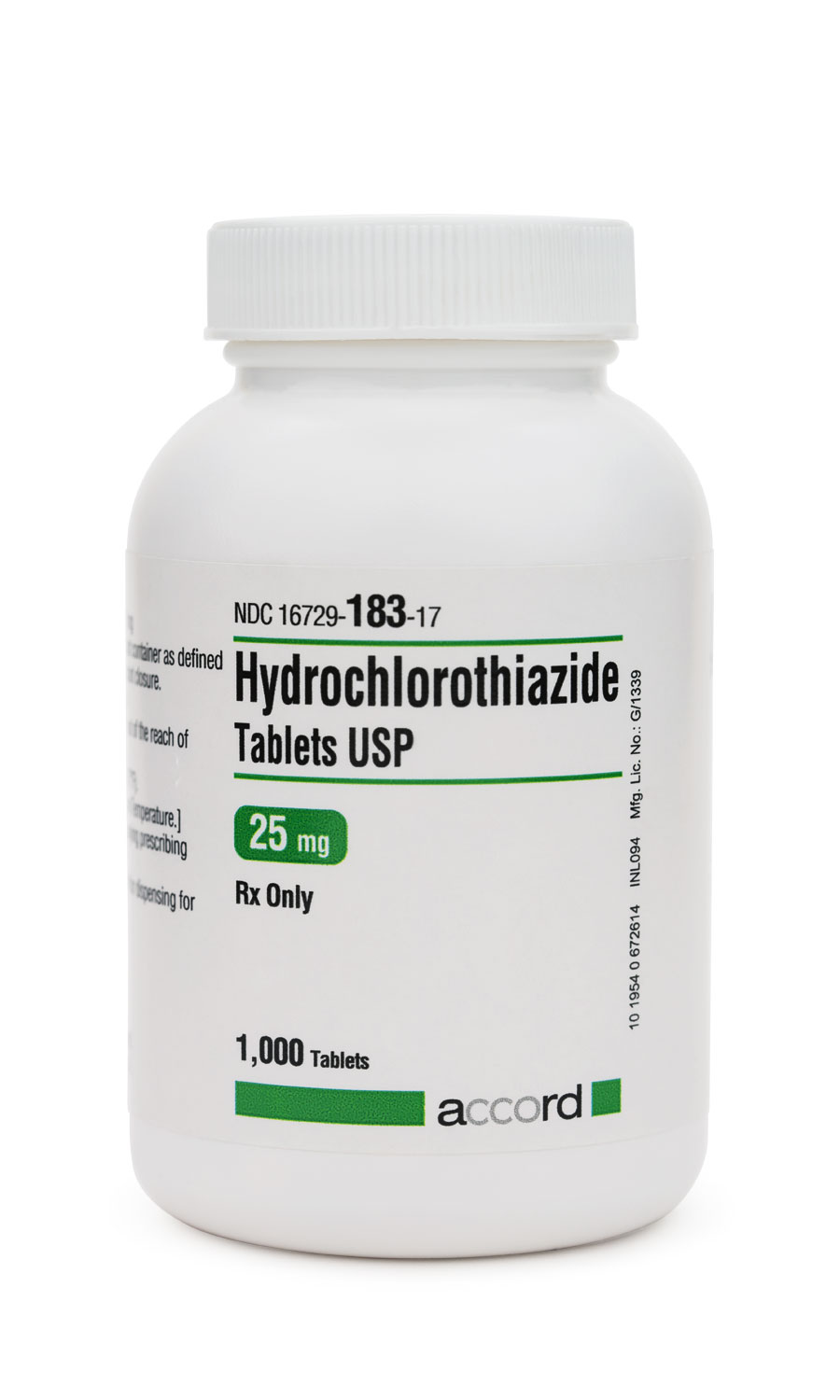 Hydrochlorothiazide General Information
Hydrochlorothiazide sometimes abbreviated HCT, HCTZ, or HZT is a popular diuretic drug (water pill) that acts by inhibiting the kidney's ability to retain water. This reduces the volume of the blood, decreasing blood return to the heart and thus cardiac output and, by other mechanisms, is believed to lower peripheral vascular resistance.

Hydrochlorothiazide is used to treat excessive fluid accumulation and swelling (edema) of the body caused by heart failure, cirrhosis, chronic kidney failure, corticosteroid medications, and nephrotic syndrome.

Hydrochlorothiazide is also used alone or in combination with other blood pressure lowering medications to treat high blood pressure.

This medicine is sometimes prescribed for other uses; ask your doctor or pharmacist for more information.



Hydrochlorothiazide Recommendations
Follow the directions for using this medicine provided by your doctor. Take Hydrochlorothiazide exactly as directed.

Hydrochlorothiazide may be taken with or without food. Hydrochlorothiazide is usually taken once or twice a day. If you are to take it once a day, take it in the morning; if you are to take it twice a day, take it in the morning and in the late afternoon to avoid going to the bathroom during the night. Take this medication with meals or a snack.

If you forget to take Hydrochlorothiazide, take the missed dose as soon as you remember it. However, if it is almost time for your next dose, skip the missed dose and continue your regular dosing schedule. Do not take a double dose to make up for a missed one.



Hydrochlorothiazide Storage
Store at room temperature away from moisture and sunlight.
Do not store in the bathroom


Hydrochlorothiazide Possible Side Effects
Hydrochlorothiazide may cause dizziness and lightheadedness especially during the first few days as your body adjusts to it.
Rise slowly from a seated or lying position to minimize the dizziness or lightheadedness.
Blurred vision, loss of appetite, itching, stomach upset, headache and weakness may also occur during initial therapy as your body adjusts to the medication.
If these effects persist or worsen, notify your doctor promptly.
Inform your doctor promptly if you develop: muscle cramps, weakness, pain, nausea, vomiting.
In the unlikely event you have an allergic reaction to Hydrochlorothiazide, seek immediate medical attention.
Symptoms of an allergic reaction include: rash, itching, swelling, dizziness, trouble breathing.
If you notice other effects not listed above, contact your doctor or pharmacist.



Hydrochlorothiazide Precautions
Tell your doctor your medical history, especially about: gout, diabetes, liver problems, urinary problems, any allergies (especially to sulfa medications).
Thiazide diuretics may increase sensitivity to sunlight.
Avoid prolonged sun exposure.
If you become sun sensitive, use a sunscreen and wear protective clothing when outdoors.
Hydrochlorothiazide should be used during pregnancy only if clearly needed.
Discuss the risks and benefits with your doctor.
Thiazide diuretics appear in breast milk.
Though there have been (to date) no reports of harm to nursing infants, consult your doctor before breast-feeding.



Hydrochlorothiazide Missed Dose
If you miss a dose, take it as soon as remembered; do not take if it is almost time for the next dose, instead, skip the missed dose and resume your usual dosing schedule.
Do not "double-up the dose to catch up.



Hydrochlorothiazide Interactions
Hydrochlorothiazide is not recommended for use with: dofetilide.
Ask your doctor or pharmacist for more details.
Inform your doctor about all the medicines you may use (both prescription and nonprescription), especially if you take: lithium, digoxin, oral drugs used for diabetes, aspirin, NSAIDs (e.g., ibuprofen, naproxen), fluconazole.
If you take colestipol or cholestyramine for high cholesterol, take the diuretic 1 hour before or 4 hours after because of decreased absorption into the bloodstream.
Avoid any drugs that increase your heart rate or make you excited like decongestants because it may counter-act your blood pressure medicine.
Decongestants are commonly found in over the counter cough-and-cold products.
Ask your pharmacist if you are uncertain about decongestants in over-the-counter products.
Do not start or stop any medicine without doctor or pharmacist approval.