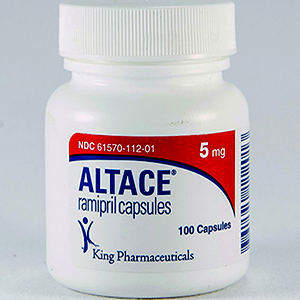 What is Altace?
Altace is a type of medicine called an ACE inhibitor. ACE inhibitors help to reduce blood pressure by decreasing production of a protein in the human body that can cause the blood vessels to constrict.

Altace is indicated for the treatment of:

• High blood pressure (hypertension)
• Congestive heart failure

Altace is also used to improve survival in patients with heart failure after a heart attack (myocardial infarction).

Altace is the only ACE inhibitor proven to reduce the risk of having a heart attack or stroke in people aged 55 or older who have any combination of the following serious cardiovascular (heart-related) risk factors:

• Diabetes plus one other risk factor (high blood pressure, high cholesterol, or a habit of cigarette smoking)
• Coronary artery disease
• Previous heart attack
• Previous stroke
• Peripheral vascular disease

In the Heart Outcomes Prevention Evaluation (HOPE) study, Altace reduced the risk of cardiovascular disease for people aged 55 and older who had normal blood pressure or whose high blood pressure was already being treated. Altace reduced the relative risk of heart attack by 20%; death from cardiovascular problems by 26%; and stroke by 32%.


Altace Recommendations
Follow the directions for using this medicine provided by your doctor. Take Altace exactly as directed.

Unless otherwise instructed, take 1 Altace capsule per day at the same time every day. You can take Altace with or without food.

Take the Altace capsule whole. If you have difficulty swallowing the capsule, the contents may be sprinkled on a small amount of applesauce or mixed with 4 ounces (120ml) of water or juice. It is best to eat or drink the entire mixture immediately after mixing.

Altace can be safely taken with many other medications. It can be used in addition to many other needed treatments, such as aspirin, cholesterol-lowering agents, and other blood pressure medications.

Take this medicine regularly to receive the most benefit from it. Do not stop taking Altace without talking to your doctor.

If you miss a dose of Altace, take it as soon as you remember it. If it is almost time for your next dose, skip the missed dose and go back to your regular dosing schedule. Do not take a double dose to make up for a missed one.

Store your tablets at room temperature, away from heat, light, and moisture.



Altace Storage
Store the medicine in a closed container at room temperature, away from heat, moisture, and direct light.
Any medicine that has been mixed with apple juice or applesauce may be stored in a refrigerator and used within 48 hours. Keep all medicine away from children and never share your medicine with anyone. Ask your pharmacist, doctor, or health caregiver about the best way to dispose of any outdated medicine or medicine no longer needed.



Altace Possible Side Effects
Call your doctor right away if you notice any of these side effects: Allergic reaction: Itching or hives, swelling in your face or hands, swelling or tingling in your mouth or throat, chest tightness, trouble breathing. Blistering, peeling, red skin rash. Chest pain, lightheadedness, dizziness, or fainting. Confusion, weakness, uneven heartbeat, shortness of breath, or new numbness or tingling in your hands, feet, or lips. Dark-colored urine or pale stools. Change in how much or how often you urinate. Fever, chills, sore throat, or body aches. Stomach pain, severe nausea, vomiting, or loss of appetite. Yellowing of your skin or the whites of your eyes.



Altace Precautions
You should not use this medicine if have had an allergic reaction to ramipril or to any other ACE inhibitor such as captopril, enalapril, lisinopril, Accupril?, Lotrel?, or Zestril?.
You should not use this medicine if you are pregnant or breast feeding.



Altace Missed Dose
If you miss a dose or forget to use your medicine, use it as soon as you can.
If it is almost time for your next dose, wait until then to use the medicine and skip the missed dose.
Do not use extra medicine to make up for a missed dose.



Altace Interactions
Using this medicine while you are pregnant can harm your unborn baby.
Use an effective form of birth control to keep from getting pregnant.
If you think you have become pregnant while using the medicine, tell your doctor right away. Make sure your doctor knows if you have lupus, liver disease, or kidney disease. Make sure your doctor knows if you are planning surgery, being treated for allergies, or if you are on dialysis. This medicine may make you dizzy.
Avoid driving, using machines, or doing anything else that could be dangerous if you are not alert. This medicine lowers the number of some types of blood cells in your body.
Because of this, you may bleed or get infections more easily.
To help with these problems, avoid being near people who are sick or have infections.
Wash your hands often.
Stay away from rough sports or other situations where you could be bruised, cut, or injured.
Brush and floss your teeth gently.
Be careful when using sharp objects, including razors and fingernail clippers. Your doctor will need to check your progress at regular visits while you are using this medicine.
Be sure to keep all appointments. Make sure any doctor or dentist who treats you knows that you are using this medicine.
You may need to stop using this medicine several days before having surgery or medical tests. This medicine may make your skin more sensitive to sunlight.
Use a sunscreen when you are outdoors.
Avoid sunlamps and tanning beds.