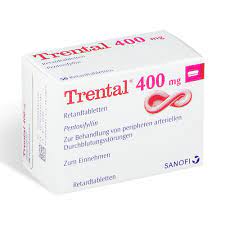 What is Trental?
Trental belongs to a group of medicines known as blood viscosity reducer agents.

Indications include:

• treatment of intermittent claudication on the basis of chronic occlusive arterial disease of the limbs

Trental helps decrease the muscle aching/pain/cramps that occur with intermittent claudication.



Trental Recommendations
Follow the directions for using this medicine provided by your doctor. Take your medicine exactly as directed.

The usual dosage of Trental is one tablet (400 mg) three times a day with meals.



Trental Storage
Store at room temperature away from sunlight and moisture.



Trental Possible Side Effects
Loss of appetite, nausea, constipation, headache, dizziness, anxiety or blurred vision may occur at first as your body adjusts to the medication.
If these effects persist or become bothersome, inform your doctor.
Notify your doctor if you experience chest pain, confusion, difficulty breathing, or rash while taking this medication.
If you notice other effects not listed above, contact your doctor or pharmacist.



Trental Precautions
Tell your doctor your complete medical history before you take any medicine.
This medication should be used during pregnancy only if clearly needed.
Because this medication appears in breast milk, consult your doctor before breast-feeding.
It is best to avoid smoking because nicotine constricts blood vessels.



Trental Missed Dose
If you miss a dose, take as soon as remembered; do not take if it is almost time for the next dose, instead, skip the missed dose and resume your usual dosing schedule.
Do not "double-up" the dose to catch up.



Trental Interactions
Inform your doctor about all the medicine you use (both prescription and nonprescription) especially if you take medicine for high blood pressure, cimetidine (Tagamet for ulcers), "blood thinners" such as warfarin or other drugs that can affect blood clotting because your dose may need to be adjusted.
Do not start or stop any medicine without doctor or pharmacist approval.